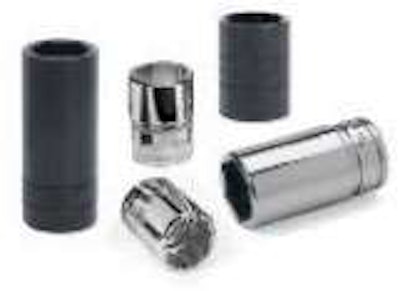 [This article was originally published in 2012 by Trucks, Parts, Service. It has been updated to include more timely information.]
Chrome hand sockets and impact sockets have many differences that go beyond just appearance, and each is designed and manufactured for specific applications.
Snap-on Tools offers some helpful guidance for deciding which tool to use for which application.
For instance, a technician should never use a chrome hand socket on an impact gun — only impact sockets. The impact socket has thick walls and is finished in a black phosphate or black oxide finish. Impact sockets also have a cross hole in the handle end for use with a retaining pin and ring or locking pin anvil to allow the socket to be securely attached to the square drive of an impact gun, Snap-on says.
[RELATED: Dewalt debuts subcompact impact wrenches]
Power sockets, designed for use with power nut runners, multi-spindle machines and angle head nut drivers, may cause some confusion since they are offered in a black finish. But, Snap-on notes, they are stamped "WARNING: NON-IMPACT." Power sockets are heat treated to a higher hardness than either impact or hand sockets. According to Snap-on, this high hardness, combined with thick socket walls, produces a strong, wear-resistant socket. This socket is suited for assembly-line work where it is not subjected to high-impact loads.
Hand sockets have a thin wall which allows for clearance in general applications where hand torquing is used. Hand sockets, except for those intended for industrial use, are chrome plated. Although hand sockets and power sockets can fit the impact wrench, they are not the same and must not be used on impact tools, Snap-on warns.
[RELATED: Milwaukee Tool expands lineup by adding wrench, ratchet and socket sets]
Additionally, the tool maker says one difference you can't see between these two types of sockets has to do with the way each has been heat treated and/or the composition of the metal used.
The impact socket made out of medium carbon alloy steel is heat treated to a low hardness range which has been optimized for impact use. This means that under heavy, continuous use, an impact socket will withstand the impact blows and will wear rather than break, Snap-on says.
Hand sockets, conversely, are made of medium carbon alloy steel that is heat treated to a hardness range commensurate with their size and configuration. Snap-on says hand sockets are heat treated to a comparatively higher hardness for high strength and more wear resistance than impact sockets. But, they are made to sustain hand applied torque applications only.
Using only impact sockets on impact wrenches reduces the risk of injury, delays and damaged work. It's relatively easy to spot a hand socket that's been misused on an impact wrench, Snap-on says. Check the square drive end for signs of damage and distortion. Cracks and other damage often will appear around the wrench end as well.
Improperly using hand sockets on impact tools may be hazardous as they may crack. By knowing the difference between the various types of sockets and using them appropriately, you will be able to ensure a safer and more efficient work environment.