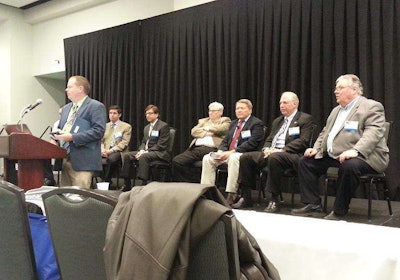 The heavy-duty right to repair discussion became the center of an actual debate Wednesday, highlighting a 90-minute session at the Technology & Maintenance Council (TMC) annual meeting in Nashville.
The technical session was held as part of TMC's S.12 Onboard Diagnostics study group; and included panelists from all sides of today's right to repair debate: the commercial vehicle independent aftermarket, automotive aftermarket, commercial vehicle truck and engine manufacturers, diagnostic software providers and diagnostic tool trainers.
All sides of the heavy-duty debate were given an opportunity to speak during the session before opening up the floor to questions and comments.
Speaking on behalf of the Commercial Vehicle Right to Repair Coalition, Marc Karon, Coalition chairman and president at Total Truck Parts, was brief in his comments.
Karon addressed the daily issues his service technicians face in accessing diagnostic fault code information, and the aftermarket's willingness to pay for access to that information. After heavy-duty's success in being included in Massachusetts' 2013 right to repair law, Karon said continued legislation and negotiation gives the heavy-duty independent aftermarket its best chance in acquiring this information.
Once the conversation turned from prepared responses, the debate quickly heated up.
OEM representatives showed concerns about "fair and reasonable pricing" requests being put forward by the independent aftermarket, and questioned the concept of offering proprietary diagnostics to technicians who have not received OEM-led training to use them.
The recent national automotive Memorandum of Understanding and Massachusetts' law also received significant discussion, with audience members and panelists questioning the strategy in which both rules will be policed.
Massachusetts' new law will require all heavy-duty OEMs to make proprietary diagnostic tools available for sale for use on model year 2013 or later trucks. The law also will require OEMs to make all diagnostic information available through Internet cloud-based sites to the independent aftermarket beginning with model year 2018 vehicles.
Aaron Lowe, vice president of industry affairs with the Automotive Aftermarket Industry Association, noted once that information goes online it might as well be available to everyone.
"We [AAIA] don't see why an OEM would limit that information [to Massachusetts] once they've made the investment to produce all of it" and put in on the Internet, he said. "This information is a revenue generator."
Joe Suchecki, vice president of public affairs for the Truck & Engine Manufacturers Association, said that's one of the main reasons heavy-duty OEMs are beginning to address this question. They do not want to be forced to provide access on a state-by-state basis.
Fleet representatives also were active during the debate, with an overwhelmingly majority making comments in support of the aftermarket's requests.
One fleet representative showed support of aftermarket technicians when he said he believed his fleet's aftermarket service providers are as qualified or more qualified as his dealer's techs. Another fleet agreed, noting he's seen good dealer techs leave that area of the market to join independent service provider operations.
When addressing OEM fears about proprietary information becoming available, another fleet manager noted many large fleets — several of which were present in the room — already have access to that information and it has not been abused.
But the most adamant discussion came right out of the heart of the debate — customer satisfaction. OEM, independent aftermarket and fleet representatives noted the importance of uptime during the discussion.
One fleet manager recalled a decision made by a major automotive OEM to offer all of its diagnostic information before the Massachusetts' law and national MOU were signed simply on the basis of customer satisfaction.
Customers would appreciate their willingness to provide them any information they needed, he said.
Another fleet took the conversation even further: "The only reason we're having this conversation is because [fleets] are having issues with our dealers."
Dealers are swamped fighting off this winter right now, he said. Fleets are waiting several days to get trucks in just to be diagnosed. If a service provider can help there, why not take advantage of that, he said.
"[Dealers] are overwhelmed. We are overwhelmed. We need to get that truck back on the road."