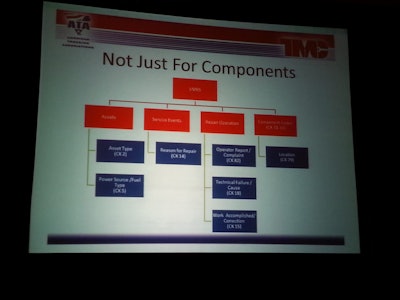 Trucking has entered the world of big data.
Fleets today can compile more information about their trucks in an hour than they used to in a year.
But acquiring all of that information also can be overwhelming.
"Big data quickly becomes a big mess if you don't have a structure for it," says Michael Reimer of Decisiv. "It needs to be organized."
During a study group breakout session at the 2015 Technology & Maintenance Council (TMC) Tuesday in Nashville, Reimer and other panelists highlighted how valuable ATA's Vehicle Maintenance Reporting Standards (VMRS) can be in bringing that information together.
Jarit Cornelius at Sharp Transport says VMRS has been influential in minimizing the downtime of his fleet. Cornelius says Sharp Transport began using VMRS codes to track its maintenance and fleet performance three years ago. In that time, the fleet has reduced its maintenance costs by 34 percent, reduced its CSA vehicle maintenance violations by 58 percent and reduced its need for outsourced maintenance by nearly 40 percent.
Cornelius credits the simplification of VMRS for the across-the-board improvements. He says his technicians quickly learned the system, and its simplicity within its management systems allow employees throughout the Sharp Transport operation to better understand vehicle service needs.
"It's never been more important than now for fleets to have control of their maintenance costs," he says. "Nearly 75 percent of us don't have an understanding of our true cost of operation, and with VMRS codes you can gain some of that control."
Freightliner's Jason Potts says VMRS codes are endearingly referred to as "The Hydra" within Daimler for their versatility and adaptability.
And VMRS codes don't require any software customization, notes John Davis at Dossier Fleet Maintenance Software. Because the codes are universal, he says they can be inputted and immediately understood by fleets and their service providers no matter what software or tools each prefers.
"They are like musical notes" in their universality, says moderator Jack Poster of ATA. But Poster notes VMRS is only a cheat sheet, it's not a miracle solution.
Businesses and their employees must use VMRS diligently to see the benefits of the codes, he says. And he acknowledges that the system is still imperfect. ATA is always working to improve the codes, and create more comprehensive codes for specific component systems (APUs, etc.) that currently have coding overlaps.