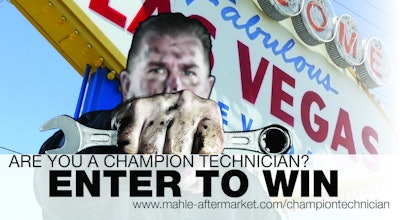 MAHLE Aftermarket kicked off its fifth annual MAHLE Aftermarket Champion Technician Contest on Aug. 3, 2015.
MAHLE says the contest is designed to spotlight talented and forward-thinking engine technicians and specialists.
To enter, participants must answer a series of five questions that describes the nominee's passion for engines and engine rebuilding, explains the history of their journey in this field, and names their mentor and illustrates the impact he or she had on the nominee's life. Additional answers are to detail a specific occurrence that demonstrates creativity and success in the engine development field and, finally, describes the skills and talents the individual exemplifies to classify them as a "champion," the company says.
An independent panel of experts review the entrants' answers to determine if success and creativity related to the advancement of engine development is demonstrated. This year the company says its grand-prize winner will receive a VIP trip to the 2015 NASCAR Sprint Cup Series Champion's Week in Las Vegas, Nev.
"Engine technicians across the nation work hard, but infrequently receive accolades for their contributions. The MAHLE Aftermarket Champion Technician Contest enables us to bestow overdue recognition on engine specialists," says Jon Douglas, general manager, MAHLE Aftermarket Inc. "Now in its fifth year, the MAHLE contest gives us the opportunity to salute one of the very best technicians – the type of person who gives true meaning to the term of 'champion'."
Participants can submit an entry on their own behalf or on behalf of someone else. Entrants must complete and submit the contest nomination form at www.champtechcontest.com through 11:59 p.m. ET on Oct. 9, 2015.
The grand prize winner will be determined from the eligible entries based on one-third creativity, one-third originality and one-third relevance to the criteria, MAHLE says. The winner will receive a prize package consisting of a trip to Las Vegas Dec. 2-5, 2015, including coach class airfare for two, a three-night hotel stay, a special meet-and-greet with a NASCAR personality, VIP viewing area at NASCAR Victory Lap and tickets to NASCAR After The Lap, NASCAR Sprint Cup Series Awards and the NMPA Myers Brothers Awards Luncheon. The grand prize package also includes a MAHLE Aftermarket VIP dinner for two at a five-star Las Vegas restaurant, a feature on the MAHLE Motorsport North America Facebook page, Officially Licensed NASCAR merchandise, and a commemorative plaque to celebrate the Champion Technician. The prize package is valued at approximately $4,300.
For more information on the MAHLE Aftermarket Champion Technician contest and the rules, visit www.mahle-aftermarket.com/championtechnician.