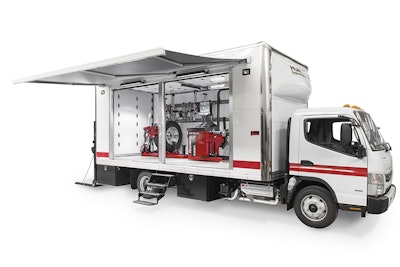 Hunter Engineering has developed a heavy-duty mobile on-site service truck demonstration, which allows the company to display how its wide range of equipment can be used to provide heavy-duty mobile service.
Hunter says its mobile service vehicle allows shops to provide unmatched convenience to consumers and inspect and service entire fleets in a single visit. The company says the truck is designed to compliment and expand service facilities to provide new services without increasing the brick and motor footprint of a traditional shop environment.
The heavy-duty mobile on-site service vehicle allows shops to maximize value, eliminate downtime between customers and take advantage of an untapped revenue stream, Hunter says.
"Differentiate yourself from the competition by bringing easy, on-demand services including inspection, alignment and changing and balancing tires to heavy-duty consumers," the company says.