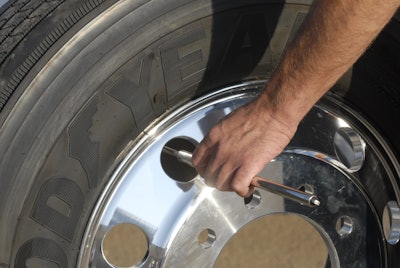 Truck tires will be in the spotlight during the 2016 Commercial Vehicle Safety Alliance (CVSA) International Roadcheck inspection event, which will take place June 7-9 throughout the United States, Canada and Mexico.
Here are five tips that will help fleets and owner-operators keep their tires in top working condition, according to The Goodyear Tire & Rubber Company:
Maintain correct inflation pressure. This is the single most effective practice that a fleet or driver can employ to impact tire wear, casing life and overall performance. Both over-inflation and under-inflation change a tire's footprint, making it susceptible to irregular wear, possible loss of traction, and specifically in the case of under-inflation, excessive heat build-up. Check inflation pressure levels at least once a week.
Conduct visual/tactile inspections. Check for cuts, cracks, blisters, bulges and other issues. Also look for unusual wear patterns like cupping and feathering. If detected early enough, these patterns can be corrected to help extend tire life.
Keep your truck aligned. Over time, a regular alignment schedule can help prevent irregular tire wear. For 18-wheelers, a traditional front end alignment isn't always enough. Drive axles should be brought into alignment, too. A correctly aligned truck also can have a favorable impact on fuel consumption.
Don't mismatch tires. Mismatched tires can lead to many problems. For example, diameter differences larger than ¼-inch can create scrubbing patterns for the smaller of the two tires.
Talk to an expert. When in doubt, consult a tire expert, such as Goodyear Commercial Tire & Service Center or an authorized Goodyear commercial tire dealer. The trained professionals at these locations have the experience and expertise to evaluate truck needs and make the most appropriate tire and/or maintenance recommendation.
"Tires represent a significant investment for fleets and owner-operators," says Brian Buckham, general manager, product marketing, Goodyear. "We encourage trucking operations of all sizes to incorporate the above practices into their tire maintenance programs, both now and throughout the year."