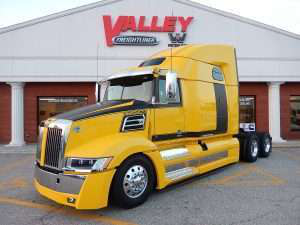 Valley Freightliner, Western Star Trucks of Cleveland has been named Elite Support Certified after completing more than 125 criteria points that touched on the company's facilities, processes, and procedures.
Elite Support is the cornerstone of DTNA's commitment to providing uptime to its customer through continuous improvement activities identifying opportunities for improvement, employee engagement, and a customer centered culture, the company says.  Uptime solutions center around the Express Assesment process, which is providing a preliminary diagnosis of the issue within two hours of the customer's arrival.
Certifying a former car dealership was no easy task, however, all 57 employees of the Cleveland location pulled together to work towards certification, the company says.
Focusing on "eating the elephant one bite at a time" allowed the team to segment the criteria to work towards certification.  Though the initial certification is complete, the dealership and its employees are committed to continuous improvement activities centering around improving the employee and customer experience with a renewed commitment to providing uptime solutions for the Class 6-8 truck market.