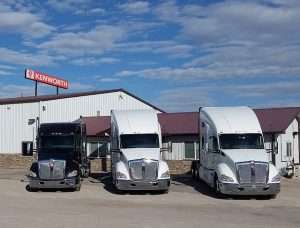 It's often not easy to convince young people to stay close to home when they're ready to hit "the real world," but Marc Hess knows it's vital.
Manager of MHC Kenworth dealership in Cheyenne, Wyo., Hess spends much of his time proactively working to attract more young people to the career opportunities at MHC Kenworth.
Hess maintains strong relationships with educators at a local vocational-technical school, and provides students with opportunities to learn more about the work of his dealership's technicians through a supervised apprenticeship program over the past few years.
Recruiting technicians in a community like Cheyenne, Hess says, is easier when you expose more young people to the work they could be doing as diesel technicians. Through this exposure, students can see what opportunities are available to them, particularly at Kenworth dealerships in their hometowns.
"We want to provide more mentorship experiences and job shadowing opportunities so students can also learn from our more experienced technicians before they retire," he added. "Our goal is to preserve industry knowledge and pass it along to a new generation of technicians."
Hess believes recent events have made his efforts even more important. Earlier this year, the University of Wyoming eliminated its technical education program. Meanwhile, the Wyoming Legislature currently faces a deficit somewhere between $240 million and $530 million in the education fund for the two-year budget cycle starting in 2018.
The Legislature hired a new consultant firm to take a fresh look at the state's education funding model, and some legislators believe significant reductions in vocational education would allow the state to focus on more core content programs like mathematics, science and language arts.
"Limited school resources and few networking opportunities among people in professional trades cause young people to believe that career opportunities in technology outside of computer or mobile app programming largely don't exist," Hess said. "We must change that perception.
"Through our mentorship program, many young people are shocked to discover how much technology is involved in maintaining and repairing commercial trucks," he said. "They're also surprised to learn how diesel technician training offers an opportunity to gain greater income potential, but at a much lower cost than in a four-year program."
According to the Advanced Technology Institute, the college board and the Bureau of Labor Statistics, students can complete training in diesel technology in less than half the time it takes to complete the requirements for a four-year degree. Tuition at a vocational school costs 50 percent less and diesel service technicians and mechanics can make nearly as much money as a four-year college graduate in their first job out of school.
"When students learn about the technology our technicians use, as well as the resources and continuing education we offer, they can see we're dedicated to offering customers the highest level of service through the Kenworth PremierCare Gold Certified program by providing our techs the best training in the industry," Hess adds.
Gold Certified Kenworth dealers like MHC Kenworth – Cheyenne provide a range of premium-level services, which Hess says helps display the company's commitment to going to extra mile.
"Young people are very attracted to the idea of working for MHC because of our forward-thinking approach," Hess said. "This helps us gain new truck buyers. They know we seek out and hire the best, while keeping our techs up-to-date with training in the latest developments at PACCAR and Kenworth."