The following was published in CCJ's Equipment Maintenance Toolkit, 8th edition, sponsored by Valvoline Heavy Duty. CCJ's Equipment Maintenance Toolkit is a complementary industry resource, courtesy of our partnership with Valvoline Heavy Duty. You can download the entire Toolkit here.
It's a scenario that has happened to every service provider at some point. A customer brings in a truck for a repair and the technician can't figure out what's wrong with it. Or he can, but he doesn't know how to fix it.
In times like these it's easy for anyone to become frustrated and agitated. To curse at the sky. But a technician failing to accurately diagnose or identify a repair doesn't mean he's done something wrong. He might be insufficiently equipped for the job at hand.
Technicians require highly advanced diagnostic equipment to do their jobs well. Service providers who fail to provide those tools not only put their employees' safety at risk, but also can damage their customer relationships and weaken their reputation.
But service providers who need more diagnostic equipment also shouldn't just buy the first tool they can get their hands on.
Experts say service providers should first answer several key questions about their business to better identify the diagnostic equipment that will best fit their needs.
What are you repairing?
Finding the right diagnostic equipment begins with a look inward. Once a service provider identifies a need for better tools, experts say they should evaluate the equipment they already have and determine where they have knowledge gaps. A small spring shop is unlikely to need a premium tool for engine diagnostics, but that doesn't mean they might not have a need for a robust tool offering suspension, driveline and wheel end diagnostics, for example.
Some diagnostic providers in the heavy-duty market will provide guidance during a sale.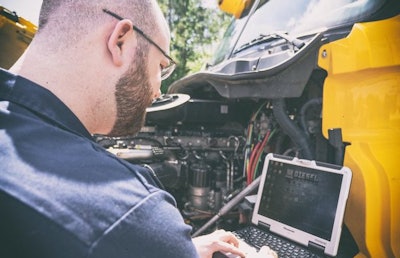 Diesel Laptops Founder and CEO Tyler Robertson says his company is unique in that it doesn't just sell its proprietary software, "we sell everybody's software," which means the company's sales team engages with customers in a consultative manner. "What the customer calls about isn't always what they end up buying," he says.
Service shops also should take a look at their customer base and make sure any diagnostic equipment they invest in will help complete the repairs they are doing every day. This means not only specific componentry and systems, but also vehicle brands. All-makes shops require all-makes technology.
That said, while any service shop investing in new diagnostic technology should attempt to acquire a product that will exceed their current needs, that doesn't mean they should purchase something far more advanced than necessary for their bays.
Noregon Director of Product Management Scott Bolt says it's imperative service shops select tools that ensure they can complete a repair the first time.
"Uptime is so valuable to fleets; they can't afford to risk being sidelined because the truck did not receive a comprehensive vehicle health report," Bolt says.
What do you need it to do?
The multitude of diagnostic and troubleshooting products available on the market today serve many purposes. Purchasing a handheld tool to read diagnostic trouble codes won't do a service shop a lot of good if it doesn't know what those codes mean or how to address them. Service operations also require access to repair information and the ability to address associated failures and reset codes so customers can leave without still being pestered by flashing service lights.
Bolt says Noregon developed its suite of diagnostic products to solve those issues.
"We've found about 57 percent of trucks leave the shop with faults still active, in large part because of shops using tools that only diagnose a single component," he says. "As vehicles become more complex, it is our mission to simplify the diagnostic process by providing technicians with understandable, actionable information about what is wrong with the truck."
One positive on this note is many OE suppliers within trucking offer inclusive proprietary diagnostic software and equipment for their systems. For service shops providing only a select number of complicated repairs, purchasing these products independently can be more cost effective than acquiring a more robust tool featuring additional software for brands and systems a service shop may never repair.
Service providers also need to be sure their diagnostic equipment will evolve along with the vehicles they are repairing.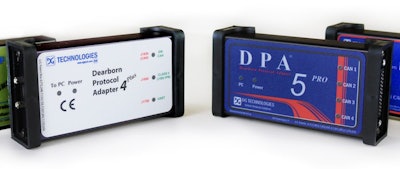 John McNeilus, sales and marketing manager, DG Technologies, says his company's scan tools are developed to be able to download free software updates at any time from the company's website. McNeilus says these updates not only assure customers their technicians have the most up-to-date information, the secure download connection also ensures a tool never receives improper or faulty information.
How are you going to use it?
Finally, there's the question of shop layout and workplace use. Most diagnostic scan tools are portable so technicians can take them to a bay and easily maneuver around equipment to plug in to systems and read codes.
But repairing trucks today takes more than just a scan tool. Technicians also require access to tablets and/or personal computers so they can access repair information software that provides root cause analysis, service instructions, wiring diagrams and more.
When investing in new equipment, service shops must decide how they want to outfit their techs and bays. And on this point, McNeilus says it's important to not overlook the service environment. "Even if your techs take care of them, these [tools] are still going to get beat up over time," he says. "They have to be tough."
For a shop focusing on time-consuming service work, such as engine or transmission rebuilding, or a body shop, purchasing a select number of tools to share throughout a location may be feasible. For a shop focused more on preventive maintenance and turning trucks quickly, outfitting each bay with necessary diagnostic equipment may be optimal. Tool providers often also offer customers recommendations in this area, providing the latter give accurate information about its business, needs and likely uses.
"At the end of the day, any tool you buy should help to generate money for your shop," Robertson says. "You should make sure you know what you're buying."