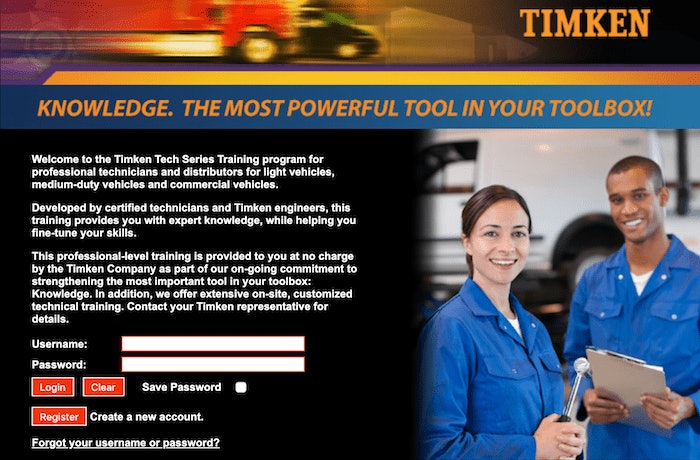 The Timken Company has introduced three different free online resources to help train technicians.
Timken's Tech Series training, TechTip info sheets and Tricks of the Trade videos were all designed to provide online professional-level training at no charge as an on-going commitment to strengthening the knowledge of new and current automotive and heavy-duty technicians.
The company says it offers the e-learning Timken Tech Series to provide participants with expert knowledge and help fine-tune their skills. Timken Tech Series free online program has been training technicians globally since 2005 and is used as curriculum by automotive trade schools across the U.S. Created by certified technicians and Timken engineers, Tech Series focuses on light and commercial vehicle product training. Light vehicle course topics cover hubs, lubricants, needle bearings, seals, tapered bearings, cylindrical bearings and ball bearings. Commercial vehicle course topics cover tapered bearings, seals, lubricants and driveline center support bearings, Timken says.
Additionally, all product training sections cover basic product overviews, removal and/or installation, trouble shooting, FAQs, part nomenclature and glossary of terms. Each product training section includes additional literature and video resources to reinforce the training materials. All sections end with a test to confirm the participant's comprehension of the covered material.
The Tricks of the Trade videos are automotive training tips provided by Timken to automotive technicians and students in the field. The company says a total of 23 videos cover topics including maintenance for wheel ends, hubs and bearings for both light and commercial vehicles.
Finally, the additionally offers multiple automotive TechTips for both the light vehicle and commercial vehicle markets. These tips provide information to help minimize return rates, learn accepted maintenance practices and get the most out of Timken products, the company says.