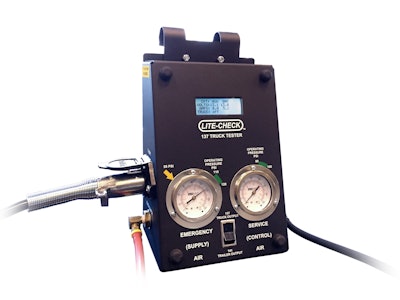 Lite-Check, LLC, has introduced its new Model 137 Truck Tester. Available exclusively through Lite-Check manufacturing starting in mid-January, the Model 137 Truck Tester is designed to test and diagnose safety concerns between the truck and trailer relating to Technology & Maintenance Council (TMC) recommended practices (RP) 137C, RP 141, RP 144, and RP 619B.
Lite-Check says the introduction of RP 137C and its revisions seeks to ensure the voltage generated by the truck is sufficient to power the ABS of the trailer while under load. With the Model 137 Truck Tester, technicians can now verify that the voltage generated by the truck meets TMC RP 137C. Similarly, trailer testing can be accomplished verifying the voltage recommendation for additional trailer hook-ups per TMC RP 141. Also, the ability to test how the ABS cab light responds to a trailer's ABS ECU is incorporated into the Model 137 Truck Tester, Lite-Check says.
"As the trucking industry continues to become more advanced, there will be a continued need for advanced diagnostics that test and diagnose issues between the truck and the trailer. The Model 137 [Truck Tester] is the first of its kind.," says Bob Blair, CEO of Lite-Check Fleet Solutions, Inc.
Lite-Check says assurance of the truck-side air pressure system per TMC RP 619B also has been accounted for in the Model 137 Truck Tester. Once the air pressure is built up on the Emergency side, the engine can be turned off, and the brake can repeatedly be pressed to release pressure on the emergency side. As the pressure is released, the technician can verify the alarm is activated when the pressure is at or below the alarm's threshold, the company says.
"Safety is a primary concern when it comes to the commercial trucking industry," says Blair. "Ensuring that the technicians can diagnose safety concerns and meet TMC RP's quickly and accurately means safer roads, reduced costs, and more efficient fleet management."