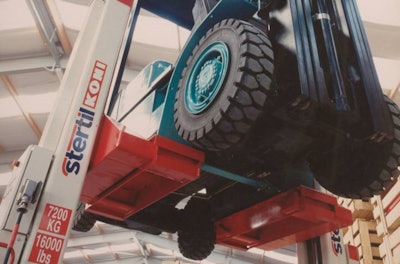 Stertil-Koni has recently introduced ergonomic forklift adapter kits the company says are designed to make the servicing and repair of forklifts easier and safer.
The solution to lift these heavy-duty vehicles, often with unequal weight distribution between the front and rear, is two Stertil-Koni adapter kits specifically designed for three- and four-wheel forklifts. These accessory kits are used in conjunction with Stertil-Koni Mobile Column Lifts, which are available in capacities ranging from 14,000 to 40,000 lb. per column, the company says.
These three-and four-wheel forklift adapter kits enable technicians to insert the adapters onto the lifting forks of two Mobile Column Lifts, which engage with the forklift body for safe, wheels-free lifting, Stertil-Koni says.
"When Stertil-Koni engineered our forklift adapters, we thought big. Our forklift adapters can support up to 32,000 lb. We recommend combining these adapter kits with our modular drive-on ramps, rated at the same impressive capacity," says Peter Bowers, Stertil-Koni USA technical sales support manager. The ramps are included with the adapter kit.