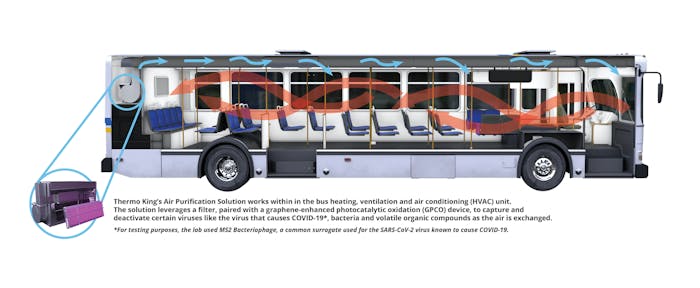 Thermo King on Wednesday launched a new air purification solution for buses that continuously purifies the air while the bus is in operation. Thermo King's Air Purification Solution has been independently tested and proven to be 98 percent effective in deactivating certain viruses, including a surrogate for the virus that causes COVID-19.
"Our public transit customers understand that riders may feel apprehensive about getting back into their normal routines and taking public transportation," says Karin De Bondt, president, Thermo King Americas. "Customers and consumers face a wide range of claims in the market regarding air purification. We offer a proven solution, tested and validated by third party experts, that provides safer, healthier air quality for drivers and passengers while in transit."
Thermo King's exclusive Air Purification Solution is integrated in the bus heating, ventilation and air conditioning (HVAC) unit. The company says the solution leverages a filter, paired with an innovative cleaning technology, to capture and deactivate certain viruses like the virus that causes COVID-19, bacteria and volatile organic compounds as the air is exchanged.
It was tested extensively by an independent laboratory following guidelines of the American Society of Heating, Refrigerating and Air-Conditioning Engineers (ASHRAE) and the Centers for Disease Control and Prevention (CDC), the company says.
"Public bus transit is a major driver of economic stability in cities across the U.S., with millions of people who rely on it every day," says De Bondt. "As passengers feel confident about resuming public transport, they will have greater access to jobs and schools, supporting economic mobility across socioeconomic groups. Resumption of public transport also lowers the carbon footprint, supporting more sustainable cities."