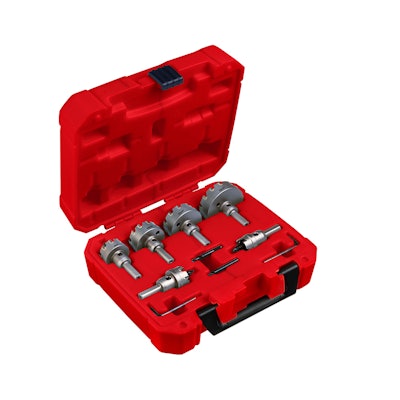 Milwaukee Tool
Milwaukee Tool has launched a carbide hole cutter as well as a first aid kit as part of its PackOut system.
Milwaukee Tool has added to its lineup of metal cutting solutions with the new Milwaukee One-Piece Carbide Hole Cutters. Featuring a one piece solid design, these carbide cutters promote stable and accurate drilling and provide added durability and dependability.
The One-Piece Carbide Hole Cutters are designed with carbide for longer life and smooth cuts in stainless steel and other hard metals. The carbide teeth provide increased life and heat resistance keeping bits cool throughout operation. These new cutters have a 3-flat shank, optimizing each cutter for use in drill/drivers and making them perfect for fast, mobile cutting applications. To prevent over-drilling, a stop shoulder design limits cuts to a 3/16 in. depth. The Spring Loaded Pilot Bit allows for fast and efficient drilling with clean plug ejection upon completion of each hole, Milwaukee says.
The new cutters will be available in sizes ranging from 3/4 in. to 4 1/2 in. and will be sold individually and in 4-piece or 8-piece kits.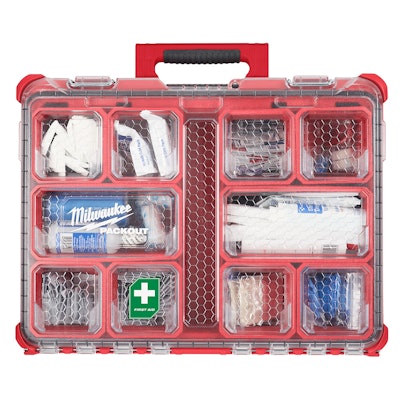 Milwaukee Tool also introduced an addition to its PackOut Modular Storage System with two new PackOut First Aid Kits — a 204-piece Class B Type III Kit and a 76-piece Class A Type III Kit. Both kits are packed with first aid essentials tailored to the most common injuries users encounter on the jobsite. These PackOut kits are included in the most versatile and durable modular storage system in the industry and are certified to the ANSI/ISEA Z308.1-2015 Standard.
These new PackOut First Aid Kits feature an impact-resistant body that keeps contents safe from drops and bumps on the jobsite. IP65-rated weather seals protect bandages, adhesives, antibiotics and other essential medical supplies.
The first aid kit's no-travel bin seals keep contents secure and in their proper place by preventing shifting during transport, while the transparent lid allows for easy identification of contents. Heavy duty latches and reinforced hinges ensure that contents within the kits stay contained and protected. For added functionality, the kits are equipped with a wall hanger so they can be easily mounted to walls, and retroreflective first aid stickers for easy identification, the company says.