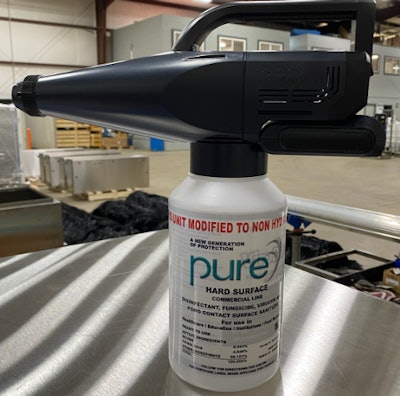 Whiting Systems has introduced a cordless disinfectant mister to meet the demand for an efficient, effective, and ultraportable disinfectant applicator.
Whiting Systems' new ViroBlaster is the ultimate portable disinfectant sprayer solution, the company says. Weighing just 3.4 lb., the ViroBlaster is uniquely built with the highest-grade materials that are compatible with disinfectants, sanitizers and deodorizers. Users can easily disinfect without having to start-up a large misting system, making the tool ideal for service shops and trucking operations that need to clean large areas quickly.
Addtionally, Whiting System's ViroBlaster finishes small or large areas fast, is effective with minimal effort by the applicator, and makes moving from room to room easy. Whiting's PURE SDC Silver Dihydrogen Citrate, completes a full, clean, disinfected area quickly.
"With Whiting's PURE, the ViroBlaster is capable of disinfecting buses, trains, trucks, and airplanes, mitigating against common colds, bacteria, viruses, and fungi (including human Coronavirus, Norovirus, Hepatitis B and C, Listeria, E. Coli, and Salmonella). A fully charged 20-volt battery will provide 30 minutes of constant run time giving the operator the ability to cover large areas," says Jason Rhoads, director of marketing.
Adds Senior Vice President Greg Jenkins, "With Whiting's patented PURE silver, there is no mixing or diluting, you just fill the half gallon cup and go."
The ViroBlaster's adjustable spray nozzle also emits PURE SDC Silver Dihydrogen Citrate at a range from 0-150 ml per minute, allowing for the most cost efficient way to disinfect, says Whiting Systems President Russ Whiting.
"We have worked with school systems in protecting school busses and classrooms with ease and convenience to our partners. As Whiting Systems continues to be the leader in mitigating costly downtime in the transportation industry, we knew investing in research and development of a better applicator was a priority and we believe we have that product," he says.