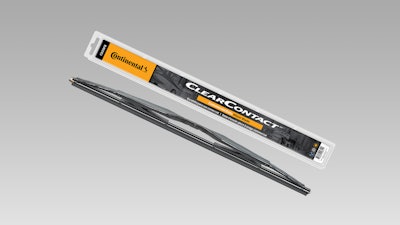 Continental has expanded its ClearContact precision windshield wiper blade program with a new line of heavy-duty wiper blades that are specifically designed and engineered for applications on commercial trucks, RVs, transit buses and motor coaches.
Continental ClearContact Commercial Duty Wiper Blades are designed for fast and easy installation and built for maximum durability and reliability in all-weather conditions. They feature an exceptional aerodynamic design that's engineered to deliver better windshield wrap, a reinforced steel frame for strength and durability, and precision cut natural rubber blade for consistent, edge-to-edge wiping performance and exceptionally long service life.
With 43 wiper blade part numbers and lengths from 10 - 40 inches in the program, Continental's new line delivers a wide range of vehicle applications on Class 1 through Class 8 trucks, buses, motor coaches and Class A, B and C motorhomes. Four different wiper blade designs are available, including flat, five bar, wide saddle and hook configurations. Custom bundles are available for fleets, bus and motor coach operators and recreational vehicle dealers.
Lori Bachman, Continental product manager for the ClearContact Wiper Blade program, says, "The Continental commercial duty windshield wiper blade program is an excellent addition to our heavy-duty market portfolio, and easily complements our range of vehicle safety and driver comfort products for commercial vehicles and RVs. Our wiper blades are built tough with world-class construction to deliver precision performance and reliability in heavy duty service."