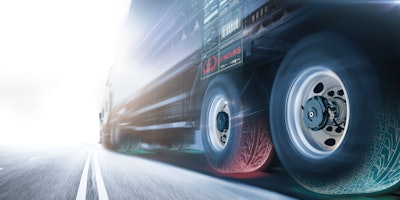 Aperia Technologies Inc., a supplier of tire management technologies, launched Tuesday at the Technology and Maintenance Council's 2022 Annual Meeting & Transportation Technology Exhibition in Orlando Halo Connect 2.0 – an update to the company's comprehensive tire management platform.
Halo Connect is a full cycle connected tire management platform that allows fleets cut unplanned tire-related downtime, reduce tire costs per mile and engender driver confidence by pairing machine learning with active inflation.
"Dozens of trade-offs need to be considered when designing the right cradle-to-grave fleet tire management strategy," said Josh Carter, Aperia Technologies CEO. "Halo Connect now couples deep historical tire health insights with fleet-specific inputs to deliver transformative tire management solutions customized to each client."
Powered by more than 50 billion miles of real-world fleet tire data, Halo Connect's proprietary tire analytics engine uses machine learning to characterize the interrelated and competing variables that affect and inform tire-related maintenance and strategic decisions, effectively enabling fleets to shift from flying blind with a reactive tire service model to confidently executing a proactive service model that optimizes uptime and tire maintenance cost.
Halo Connect is the only active tire management platform for all wheel positions, and the platform now includes key modules to help fleets optimize decision-making and cost across the tire lifecycle. First introduced in 2019, Halo Connect works in tandem with Halo Tire Inflator, a revolutionary automatic tire inflation system for trucks and trailers that installs in minutes. The platform is compatible with all vehicle makes and models, and is available through major OEMs, a network of partners, and directly from Aperia. With the Halo Connect Plan, Halo Connect 2.0 can be purchased as an asset or as a subscription service.
While the initial release of Halo Connect six years ago featured the industry's first predictive tire management platform, its primary focus is on avoiding downtime due to tire health issues.
Halo Connect 2.0 incorporates features to prevent tire health issues from ever occurring, as well as includes Aperia's enhanced tire analytics engine which uses machine learning to characterize the many interrelated and competing variables that affect and inform tire-related maintenance and strategic decisions. The system's intelligent alerting protocol considers unique fleet processes and priorities, such as risk and cost management preferences, so every notification issued is well aligned with fleet objectives.
New modules included with Halo Connect 2.0
● Tire Advisor Module - Use this tool to compare tire make and model performance across all fleet applications. A unique display of tire comparison data, this new module presents a neutral view of tire performance using real-time data of a fleet's own tires.
● Driver Engagement Module – engage drivers and enable pre-trip inspections to be run simply and reliably. This module notifies drivers of critical tire issues and improves communication with fleet maintenance.
● Tire Casing and Tread Module – Halo Connect now assesses tire damage accumulated as well as tread measurements over time to ensure fleets are optimizing pull-points and maximizing retread strategies to reduce their overall tire cost per mile.
● Advanced Reporting Module – The reporting capabilities of Halo Connect which evaluate the performance of the maintenance teams, partners, and drivers, now include geofenced reports, tire pressure mapping, fuel and tire savings estimates, and daily/weekly/monthly reports. Additionally, an API is now available to integrate into a fleet's own maintenance and telematics platforms.
● Tire Health Module – While tire pressure monitoring systems (TPMS) flag tire underinflation, Halo Connect identifies tire health issues 70 percent sooner, classifies issues by severity, and offers time-bound maintenance guidance to avoid downtime and optimize the tire cost per mile. Guidance now incorporates analysis from other newly released modules as well as nearby service locations