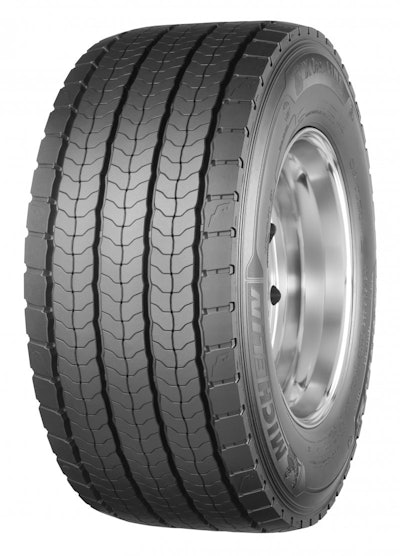 Michelin North America Inc., is launching the Michelin X One Line Energy D2 tire for fleets that want to get the most out of their drive tires in truckload line haul transportation, the company says.
Launching May 1 in North America, the tire is designed for industry-leading fuel savings and low total cost of ownership. The X One Line Energy D2 tire is available for line haul, dry van truck load and refrigerated truck load applications. The product is designed to reinforce Michelin X One fuel savings superiority versus dual tires.
"The new Michelin X One Line Energy D2 tire answers fleet needs with exceptional fuel savings for a lower total cost of ownership and significant performance attributes," says Karen Schwartz, Michelin vice president of B2B marketing. "The X One Line Energy D2 tire delivers what fleets are seeking today, and this offer represents a significant addition to Michelin's X One tire portfolio."
The Michelin X One Line Energy D2 tire, available in a 445/50R22.5 L tire size, has a 20/32 tread depth. It is a directional tire for the first half of its life, providing improved resistance to irregular wear for driver confidence and long tread life.
The tire's compact design produces less tread squirm and provides energy conservation for fuel efficiency. Its advanced tread compounds save up to $2,317 per year in fuel, achieving the SmartWay standard. The tire's ultra-rolling-resistance levels are designed to exceed Greenhouse Gas Phase 2 (GHG2) and California Air Resources Board (CARB) requirements for reduced carbon output, the company says.
Michelin's Regenion evolving tread design gives the Michelin X One Line Energy D2 tire stability in all-weather conditions for North American operations. The straight, pass-through grooves have features that appear as the tire wears, helping give traction throughout the life of the tire. The rectangular bead minimizes fatigue to extend casing life, which is designed for maximum retreadability.
As a wide-base single configuration, it enables a tractor trailer to carry up to 432 more pounds of payload versus dual tires. Additional weight savings can provide an offset for alternative fuel trucks coming to the market. The tire replaces the Michelin X One Line Energy D tire. Providing peace of mind, the X One Line Energy D2 tire comes with the Michelin X One Tire Total Satisfaction Guarantee, the company says.