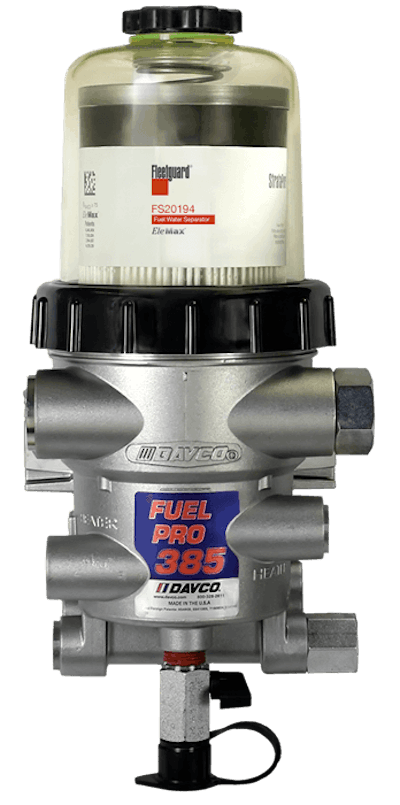 DAVCO has unveiled its Fuel Pro 385/387/388 models, its latest all-in-one fuel filter, water separator, and fuel preheaters for heavy-duty diesel designed to fit Western Star, Volvo, Navistar and Mack Class 8 trucks.
With the newest versions of the Fuel Pro joining the Fuel Pro 485/486/487 models, DAVCO three-layer filtration/water separation technology is now available to work with heavy-duty diesel engines in the majority of Class 8 vehicles in North America, the company says.
The hallmark of the latest Fuel Pro models is its three-layer filtration technology, ensuring the water separation functionality is maintained throughout the life of the filter. While this technology is not new to DAVCO – it was first introduced in the Fuel Pro 485/486/487 models in 2016 – this is the first time this technology will be available on Volvo Class 8 vehicles.
Customers can also choose to add an optional pre-heater, overnight heater and water-in-fuel sensor that will help start and keep the engine running in any weather conditions, based on their specific needs.
DAVCO also now offers fuel-blending as a next step in fuel heat for Class 8 units. While the optional fuel pre-heater and overnight heater on the Fuel Pro 385/387/388 are to aid at start up, the 388 was designed unlike anything available today, using diesel fuel itself instead of engine coolant to provide additional heat during operation. The use of fuel increases efficiency and takes in-operation fuel heat to a whole new level, the company.
Additionally, DAVCO has introduced the new and improved Shop Pro FXP 95, the company's multipurpose shop floor tool for heavy-duty diesel engines. The new model has been redesigned to be 44 lb., lighter and 15 percent smaller than the previous version, improving customer ease-of-use without reducing performance.
Shop Pro FXP 95 also uses the latest three-layer filtration technology utilized in the Fuel Pro 385 model to strip water from outside the media with two inside stripping operations, including a coalescent layer and a hydrophobic layer. This ensures no water will pass the filter, particularly for ultra-low sulfur and biodiesel fuels, which have become difficult to separate, DAVCO says.
"With the industry's attention on electric vehicles, today's product announcements serve as a reminder that we remain committed to our diesel customers," says Laurie Beegle, president, DAVCO. "Whether their products are powered by diesel or electric, commercial transportation fleets can continue to expect the same level of outstanding support they have always received from us."