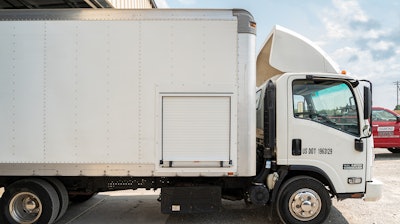 Diamond Roll Up Doors has introduced new EZ35 Aluminum Shutter Door.
The company says unlike other roll-up and swing doors that require extensive assembly and time-consuming field installation, Diamond's EZ35 Aluminum Shutter Door has a squared frame that is built exactly to customer specifications. Each door comes completely assembled and is fully functional once unpacked.  
The shutter door is factory installed within its welded frame and its spring counterbalance pre-tensioned for optimal performance prior to shipping. Additionally, Diamond says the doors can match virtually any size opening and an exterior flange helps installers achieve a perfect exterior finish every time. Frames and flanges can even be ordered to match body colors and trim styles.
 "The innovative design of the EZ35 Aluminum Shutter Door will save time and money and will make life easier for truck and trailer OEMs, upfitters and anyone installing a roll-up door in the field," says Scott Bennett, sales and special projects manager for Diamond Roll Up Doors, and the inventor of the EZ35. "Because each EZ35 door comes pre-sized, fully welded, assembled in one piece and ready to install, even a novice can finish installing one within an hour, and I've seen some completed within as little as 15 minutes."
The EZ35 comes with a one-year warranty, and if service is ever required on it or any other Diamond Door product, the company, now a part of ASSA ABLOY Entrance Systems, a global supplier of door solutions, can provide service. Diamond can deploy service technicians to virtually anywhere in North America to help keep its customers happy and productive by keeping their doors functioning properly, the company adds.