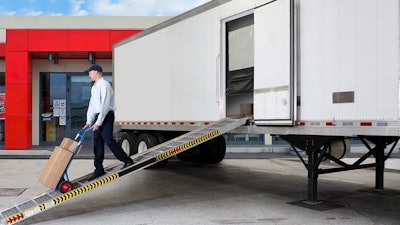 ASSA ABLOY, a global supplier of door solutions for people, places and goods, announced the unveiling of the industry's first automatic door for refrigerated trucks and trailers.
The revolutionary ASSA ABLOY MD2000 automated reefer door opens with lightning speed, electronically senses the presence of workers and cargo passing through, and quickly closes once the passage is clear, the company says. The door will help streamline the food delivery process and ensure a constant temperature and humidity barrier for reefer interiors.
"During the early field research phase of the MD2000's development, we observed countless situations in which workers tied or otherwise secured the strips out of the way, leaving the door without any atmospheric barrier during unloading," says John Zimmerman, global director of new equipment sales for ASSA ABLOY High Performance Doors. "In many cases, we saw that the curtains had been compromised by being cut back or cut off altogether in order to make passage less cumbersome, thereby exposing cargo to the outside environment and potential contaminants."
ASSA ABLOY's new automated reefer door is the ultimate automatic entrance door for refrigerated truck fleets and owner-operators, providing temperature control, food chain security and significant fuel savings, while improving overall delivery efficiency, the company says. The door was specifically designed for refrigerator and freezer applications and has been tested and validated to operate at 0 degrees Fahrenheit.
The door can be easily installed on the face of a reefer's interior wall by OEMs or retrofit on existing trailers within just a few hours, and ASSA ABLOY will send technicians to train qualified customers on proper installation and service techniques. The system comes with its own plug-and-play modular wiring harness kit, and all cables and connectors remain accessible at the point of use for easy service and maintenance, the company adds.
"The ASSA ABLOY MD2000 automated reefer door is far superior to curtain-style barriers, because when open, the entire 42-in. to 50.5-in., wide doorway space remains obstacle free, and when closed, the door creates a tight seal around its entire periphery," says Zimmerman. "With the push of a remote fob or interior-mounted button, the door opens and closes automatically within seconds, once the system's electronic photo eye confirms that the passage is clear."
Additionally, a red LED light strip is mounted on both sides of the ASSA ABLOY MD2000 interior door frame and remains on when the door is closed to provide worker orientation in low-light conditions. The lights turn off when the door is open and begin flashing to signal when it is preparing to close. The door's closing cycles can even be custom-programmed between 0 and 90 seconds. Once closed, the secure barrier only opens for authorized personnel to prevent theft and potential adulteration, the company says.
"The ASSA ABLOY MD2000 automated reefer door is designed to increase worker productivity and safety while preventing lost time from accidents," says Zimmerman. "By providing a safe and efficient automation solution for entering and exiting the reefer environment, the door will help protect the integrity and safety of cargo delivered to customers and will prevent expensive product damage, spoilage and redelivery costs resulting from high temperatures."