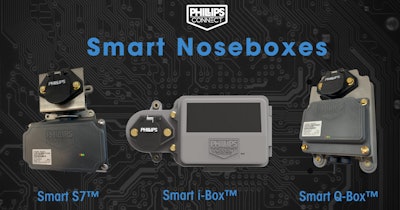 Phillips Connect, at the Technology and Maintenance Council's 2022 Annual Meeting & Transportation Technology Exhibition in Orlando Sunday, introduced three new Smart nosebox GPS gateways.
Phillips Connect Smart noseboxes can be retrofitted or specified on new equipment.
The Smart S7 Swiveling Nosebox, Smart Q-Box and Smart iBox are advanced cellular gateways, GPS trackers, and sensor hubs that deliver total awareness of trailer location, status and critical trailer conditions to the cloud. All are equipped with a Phillips Quick-Change-Socket (QCS2) Sta-Dry 7-way connection requiring no additional harnessing or electrical connections. Integrated sensors include GPS location, tractor power, and ABS PLC data such as VIN, fault lamp status and trouble codes.
Additionally, data from a wide variety of external sensors are available through Bluetooth LE, GPIO and an extendable RS485-based Phillips Connect PCT Bus.
The swivel feature of the Smart S7 nosebox allows cables to simply follow the movement of the truck when the truck/trailer combination has to maneuver into tight spaces, creating a severe angle between them and accommodates a turn up to 80 degrees (40 degrees left or 40 degrees right). It will automatically disconnect the electrical connection if the turn exceeds that angle.
Partnership with Utility
Phillips on Sunday also announced it will be the exclusive partner for Utility Trailer for trailer telematics with the launch of Utility Connect.
The Utility Connect system stems from Utility's proprietary wiring harness that has been reengineered to work with the Phillips Connect Smart7 nosebox.
The Utility Connect product suite at launch will include GPS trailer tracking, light-out detection, intelligent ABS fault code reporting, tire inflation system monitoring, and the ability to connect to additional sensors (sold separately) including door open/closed, ultrasonic cargo detection, and interior cargo cameras, among others. It also has built-in expansion capabilities, offering over-the-air communication updates that will integrate with advanced tire pressure monitoring systems and Bendix's Roll-Stability system, trailer weight, air tank pressure, and optional brake pad wear-sensors for disc brakes. Future systems will include connection to reefer units and liftgates for monitoring status and maintenance.
Rob Phillips, founder and CEO of Phillips Connect. said his company worked with Hirschbach (CCJ Top 250, No. 61) for Utility's first large-scale installation of the Smart7 system, adding "Hirschbach now has more than 1,200 Utility refrigerated trailers in operation with the Smart7 telematics, and has placed an additional order for Utility refrigerated trailers to be delivered in 2022."