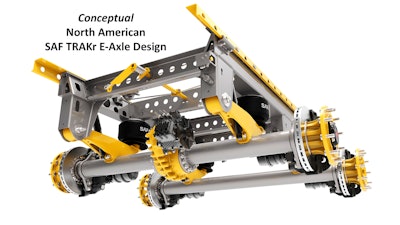 SAF-HOLLAND, at the Technology and Maintenance Council's 2022 Annual Meeting & Transportation Technology Exhibition in Orlando Sunday, announced it has begun market and product development phase of its trailer electric axles on real-world transportation applications for North America.
Since first presented at the 2018 IAA Commercial Vehicles show in Hanover, Germany, electric axles from SAF-HOLLAND have gone through further development steps and the SAF TRAKr (or recuperative axle) is currently undergoing testing around the world. The SAF TRAKr uses a high-voltage generator module for electric power regeneration to lower the emissions and fuel consumption of the overall vehicle. SAF-HOLLAND e- axles have been undergoing rigorous testing in real-world operation in Europe and South Africa.
That the recuperative axle recharges the battery as it drives, it comes with more flexibility and range than a shore power model and allows the system to use a smaller battery pack, said Bill Hicks, product manager, Axle/Suspension Systems–Americas,
TRAKr e-axle targets refrigerated fleets and allows trailer refrigeration units (TRU) to run fully electric and allows the trailer's TRU to operate when uncoupled without the use of diesel fuel.
The modular trailer e-axle system allows for easy installation by trailer manufacturers and uses standard assembly line procedures. The TRAKr e-axle will be available in the future on both SAF mechanical and air suspension tandem axle slider systems for reefer trailer applications. The e-axle is is connected to a battery pack and its operation is controlled by a control system.
The electrical generator drive unit does not have to be removed when servicing the wheel ends. Wheel-end componentry, with the exclusion of the proprietary hub assemblies, remains unchanged for easy serviceability. Wear parts such as brake pads, calipers and brake disc rotors are standard SAF-HOLLAND components to ensure and simplify spare parts supply and servicing.