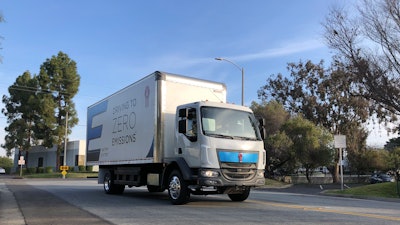 The Kenworth K270E Class 6 and K370E Class 7 battery electric vehicles are now eligible for a base $85,000 voucher incentive available to qualifying California purchasers from the California Air Resources Board (CARB). Kenworth announced the voucher Monday.
Kenworth's T680E battery electric Class 8 truck also is eligible for a CARB purchase voucher.
According to Kenworth, the significant financial incentive is offered through the 2022 CARB Hybrid and Zero-Emission Truck and Bus Voucher Incentive Project (HVIP). In addition, the program offers a 15 percent Disadvantaged Community (DAC) bonus voucher for qualifying vehicles domiciled in a disadvantaged community, the company says.
[RELATED: Kenworth T680E eligible for California Air Resources Board purchase voucher]
HVIP is part of California Climate Investments, a statewide initiative that puts billions of Cap-and-Trade dollars to work reducing greenhouse gas emissions, strengthening the economy, and improving public health and the environment particularly in disadvantaged communities.
The Kenworth K270E and K370E battery electric vehicles offer direct-drive motors rated at 355 hp for the K270E and 469 hp for the K370E. The electric powertrain is available with high-density battery packs of 141kWh, 209kWh and 282kWh that deliver up to a 100-, 150- and 200-mile range, respectively. Kenworth says the new models utilize a DC fast-charging system capable of fast re-charge in as quick as one-hour, which make the Kenworth K270E and K370E cabovers ideal for local pickup and delivery, as well as short regional haul operations. End-of-shift and overnight AC charging is also offered, Kenworth says.