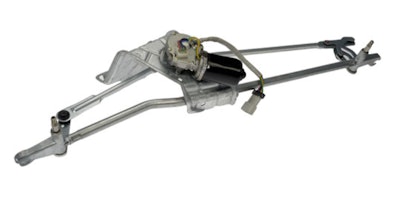 Dorman HD Solutions has announced the availability of several new aftermarket parts.
Dorman's new windshield wiper motor and transmission assembly enables a complete replacement with this assembly that includes both the windshield wiper motor and the transmission/linkage as a unit, the company says.
It is designed for Volvo VAH 2014-11, Volvo VHD 2013-04, Volvo VNL 2014-04, Volvo VNM 2014-04
In addition, Dorman has released a Low Coolant Level Sensor for 2011-91 vehicles with specified Caterpillar engines.
Dorman says it's designed to match the fit and function of the original sensor and is a reliable replacement for an original sensor that has failed due to fatigue or electrical malfunction
Dorman also released a nitrogen oxide exhaust sensor for Ford 2012-11 vehicles, with specified V8 406 6.7L (6651cc) and L6 408 6.7L engines.
Dorman says the sensor helps ensure proper detection of NOx to comply with emissions regulations, and it is engineered to match the fit and function of the original equipment nitrogen oxide sensor.