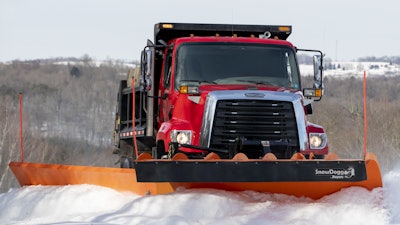 Buyers Products announces the release of a municipal wing plow designed to clear heavy, wet snow in high-volume conditions.
With a focus on flexibility, the new SnowDogg SuperWing Plow offers moldboard width options from 8 to 11 ft.
"We are excited to bring our new wing plow to market," says Scott Moorman, director of Snow and Ice Equipment, Buyers Products. "Due to the wide range of regional requirements, municipal products present a special challenge. Our SuperWing has been designed from the ground up with modular components to give our customers the right plow for the right application."
The SuperWing Plow specializes in clearing large amounts of heavy, wet snow, utilizing the flared ends of the tapered moldboard. Buyers Products says the integral top channel of the plow incorporates a drain and provisions for wire routing. The SuperWing is built with 10-gauge, 304 stainless steel with a black powder-coated rear or 7-gauge carbon steel and orange TUFF-KOTE. The company says front, mid, and rear mount configurations are available.
Customized to fit specific needs promptly with each order, the SnowDogg SuperWing Plow is manufactured at Buyers' state-of-the-art facility in Northeast Ohio. SnowDogg dealers and distributors are encouraged to call for a consultation ahead of the 2022-2023 winter season, the company adds.