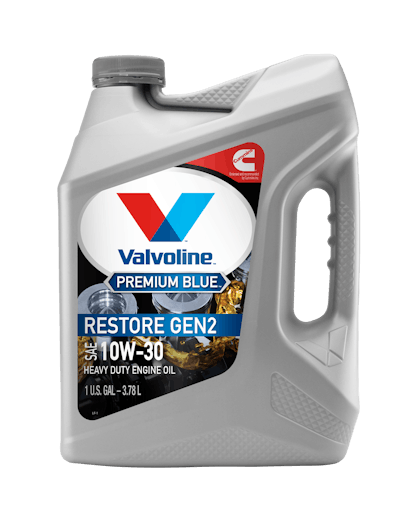 Valvoline introduced its visionary Blue Restore Gen2 motor oil the company says is capable of reducing or eliminating engine overhauls for vehicle owners with extended ownership cycles this week during ATA's Technology & Maintenance Council (TMC) Annual Meeting and Expo in Orlando.
Valvoline's Blue Restore is a unique formulation 10W-30 that is designed to provide advanced engine cleanup in a single service. Developed in partnership with Cummins and endorsed and recommended by the engine maker, Blue Restore is based on a blend of Group IV/Group V synthetic base oils coupled with a special additive package originating in Premium Blue CK-4 chemistry.
The company says the unique formulation helps remove piston deposits that can originate from fuel and engine oil combustion. When implemented at the right time during a vehicle's life, Valvoline says the oil can clean an engine so well that a likely overhaul date is extended months or even years.
The company recommends customers use Blue Restore Gen2 for one complete oil drain interval then run the oil until the next maintenance event, when it is the drained and replaced with the engine's prior oil as a low-cost option for consistent, long-life engine performance. Valvoline also notes because the product can produce considerable sediment evacuation, close monitoring of oil filter particulate capacity is recommended once the oil is in use. Oil filters also may require changing earlier than an oil drain interval due to sediment captured.
Extensively tested for years by Cummins in both engine and field service, Blue Restore Gen2 has shown no harm to engine components and system performance.
Blue Restore Gen2 is available in gallon, five-gallon and 55-gallon drums.