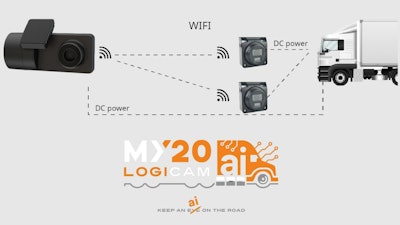 Konexial released the My20 LogiCam Aux, side auxiliary cameras which create a nearly 360-degree view around heavy duty vehicles.
"My20 LogiCam Aux cameras are a game-changer for commercial trucking and logistics companies," says Knoexical COO Andy Dishner. "By providing an extra set of eyes on the road, we're giving our clients the tools they need to make sure their drivers and vehicles are safe at all times."
The cameras are mounted on the sides of the truck and high-definition footage can be accessed in real time by fleet managers over the mesh 5G or LTE network connection.
When paired with Konexial's dash camera, the auxiliary cameras form a network with a range of advanced features that include night vision and AI-powered driver coaching. Video footage is recorded and stored for up to four months and can be downloaded on demand.
"We're excited to add this new product to our transportation platform as a service (TPaaS)," Dishner says. "At Konexial, we're committed to providing our clients with the tools they need to run their operations efficiently and, most importantly, safely. With our robust LogiCam video managment solution, we're taking that commitment to the next level."