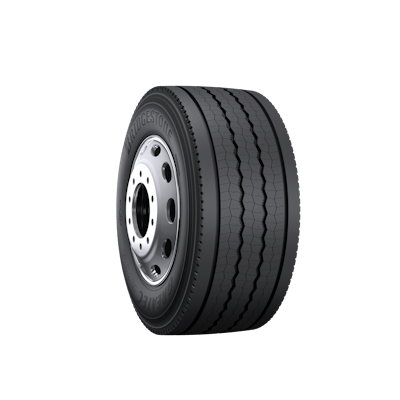 Bridgestone Americas introduces the new Greatec M703 Ecopia ultra-wide base tire for long-haul and regional applications. Engineered for superior efficiency, the new Greatec M703 Ecopia replaces the Greatec M835A Ecopia, providing fleets with improved projected mileage, fuel savings, enhanced traction and outstanding retreadability1.
"Bridgestone's line of Ecopia products continues to improve with each new tire, and the Greatec M703 is the latest example of our team's ability to create a tire that directly addresses the needs of our customers," says Brian Cunningham, vice president, Fleet Solutions, Bridgestone Americas. "With the M703, fleets can expect to see improved fuel efficiency and tire wear, which can help lower their total cost of ownership and help businesses improve their bottom line."
Bridgestone says the new M703 utilizes a high-density tread pattern alongside a long-wearing compound to deliver excellent removal mileage. The tire's ultra-wide base casing helps fleets to predictably reduce their total cost per mile through premium performance across multiple efficiency metrics. Additional key features of the M703 tire include:
Improved Projected Mileage: The M703 Ecopia tire is projected to have 30% better wear mileage than its predecessor and 10% better wear mileage than a key competitor.
Enhanced Fuel Efficiency: A low-rolling resistance compound paired with a low energy tread pattern provides fleets with a 14% lower rolling resistance than its predecessor.
Traction Technology: Increased, long-lasting biting edges give the M703 confident traction in demanding applications throughout the life of the tire.
Casing Retreadability: The tire's premium casing is engineered with proven WAVED BELT technology and TURN IN PLY design to deliver outstanding retreadability.
ENLITEN™ Technology: The M703 is engineered and designed with technologies to elevate conventional tire performance in pursuit of more sustainable mobility.
The Greatec M703 Ecopia is currently available in a 445/50R22.5 size, the company says.