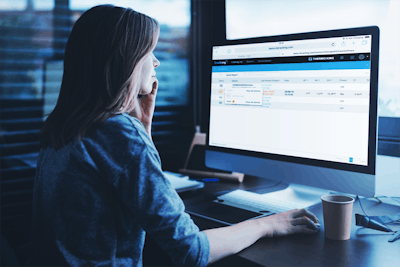 Thermo King's new telematics service, TracKing, will be standard on all 2024 APUs, trailers and large truck products, the company announced Tuesday.
[RELATED: Thermo King debuts TracKing Pro telematics]
"Thermo King innovation is driven to help our customers deliver freshness, keep loads safe and optimize fleet performance," says Chris Tanaka, vice president of product management for Thermo King Americas. "Providing data with actionable insights for fleet operators is a vital component to moving the industry forward and enhancing customer experience."
Starting Jan. 1, telematics hardware and a two-year TracKing service subscription will be standard on APUs, trailers and large truck products offered by Thermo King. It's TracKing telematics hardware has been integrated into Precedent-series trailers since 2018 and into T-90 units since 2020. The TriPac APU introduced earlier this year became the first APU to offer telematics as an option.
The data offered by the telematics solutions will allow customers to optimize fleet efficiencies and help maximize the energy potential of a fleet's refrigerated transport solutions.
"We have long understood the benefits connectivity provides customers and the impact it plays in creating more sustainable fleets and ultimately, a more sustainable world," Tanaka says. "Our decision to make the service standard is an investment aligned with our sustainability commitments and our pledge to help customers meet their company goals and regulatory requirements."
TracKing telematics offer real-time visibility into the reefer monitoring system, including temperature set points, fuel levels and load conditions as well as asset location. Service reminders and alerts are designed to minimize downtime, prevent unplanned asset breakdowns and improve fleet utilization. Temperature compliance reports are available along with asset security from door sensor data.