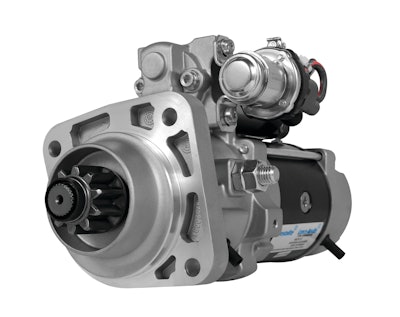 An all-new PowerPro Extreme 7.5 starter motor is available from Leece-NevilleHeavy Duty Systems, delivering 24-volt coverage and 7.5kW of starting power for 6.0 to 12.0L engines.
According to the company, this premium starter offers industry-leading performance for a wide variety of heavy use applications in the marine, construction, coach/transit bus, agriculture and military markets.
"PowerPro Extreme 7.5 starters crank fast – beating other comparable models in crank testing ­– while requiring a lower electrical current," says Jonathan Smith, business development representative and assistant director of marketing, Prestolite Electric/Leece-Neville Heavy Duty Systems. "These units were engineered to provide trucks, military vehicles, boats, buses and equipment consistent, reliable starting performance in even the harshest start and stop conditions."
All PowerPro Extreme 7.5 starter motors offer reliable, high-output power in a smaller, more lightweight package as compared to competitive models. The PowerPro Extreme 7.5 starters, available in 10- and 12-tooth versions, are a premium, all-new and no-core replacement alternative for popular engines on the market today, including Cummins ISBe, ReCon 6BTa, ISC, and 6C; MAN; and Perkins models.
Engineered to meet major OE specifications, PowerPro Extreme 7.5 starters include a variety of features such as a sealed, nose-less design to protect against dust, oil, and other contaminants; a planetary gear reduction design; Integral Magnetic Switch technology to help eliminate voltage drop; and soft-start relay technology to prevent ring gear damage, Leece-Neville says.
"These motors produce exceptional performance and durability through a variety of built-in technologies that improve service life, reduce maintenance costs and increase vehicle uptime. Exactly what every fleet is looking for," says Smith.
The units weigh 21 lb., and are now available through all major heavy-duty parts distributors nationwide. The new starter also serves as a replacement to the popular Prestolite/Leece-Neville MS4/400 series units.