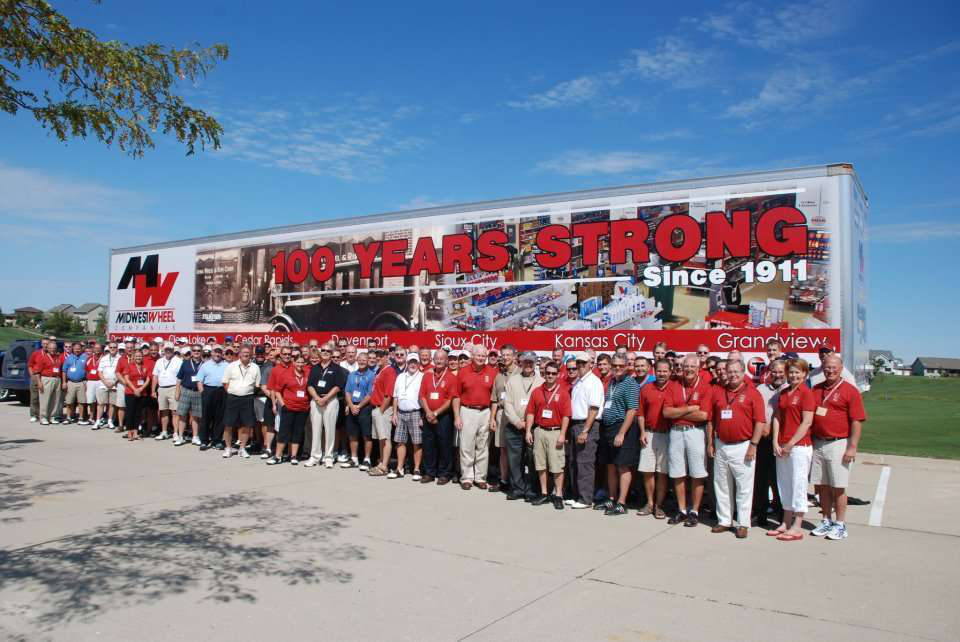 A lot has changed since 2004 when Midwest Wheel Companies was named the Truck Parts & Service Distributor of The Year. According to Mike Callison, president, perhaps the biggest change has been consolidation. "For one thing there were more independent distributors back in 2004," he says. "And there probably were more choices in suppliers."
All this consolidation has forced Midwest Wheel to be better at what it does, Callison says, because customers also have become more demanding.
"You have to drill deeper and keep your processes in line. Everyone talks about customer service, and that always is a given. You have got to reduce mistakes. People today will put up with fewer shortfalls than they used to and I don't think that is ever going to change," he says.
New Directions
One thing that has changed at Midwest Wheel is the type of products that are offered. "Midwest Wheel has added products over the years to be more of a supplier to our customers," says John Minor, executive vice president and COO.
Callison explains that in 2004 when they considered adding a product line it had to fit with what the company was already doing. "Now it can be something completely different. It can be a totally new product," he says.As a result of this change in philosophy, Midwest Wheel now carries automotive accessories, and products for transmissions and hydraulic systems. "We also are doing a bit more in industrial-type distribution," Minor says. "It is not a large part of our business, but it is a growing part of it."
Midwest Wheel's customers can expect to get most of their shop supplies/equipment, tractor/truck and trailer parts delivered daily, according to Minor. "We feel we have the system in place to market and deliver products of any kind that fit our customers' needs. To be successful doing all of those things requires accurate, on-time, professional delivery," he says.
"Our customers can make one call or order online, and get one delivery, one invoice and consistently talk to the same person year after year."
While the type of products carried may have changed, the process used to add products has stayed the same. "We get together as a team and analyze products that are offered to us," Callison says. "We try to figure out what the volume is going to be. We like the products we add either to be a natural transition from what we already have or something we feel there is a need for in our market."Once the decision is made to bring a new product on board, it initially is brought in on a small scale and tested in several branch locations to see how it performs before being added at all locations.
Eleven years ago Truck Parts & Service embarked on a program to recognize the best in heavy-duty truck parts distribution. The award continues to stand as the independent aftermarket's most respected and highest honor. This year's nominees for Distributor of the Year are the top performing distributors, as chosen by their peers, representatives from parts suppliers and manufacturers and other industry leaders. For the next five weeks, Truck Parts and Service will profile each of the five finalists for its Distributor of the Year Award.