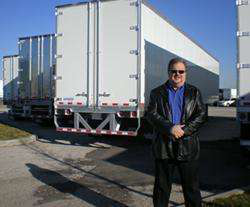 Canada-based Trailer Wizards Ltd., announced Wednesday that Dan Holt has been appointed Senior Account Manager covering Ontario from Scarborough to Cornwall. Based out of the Mississauga office, Holt will be responsible for developing and maintaining accounts, as well as generating new business in Eastern Ontario.
Holt's official start date with Trailer Wizards was October 29, 2012. He has held various roles in the transportation industry including Operations Manager, Sales Representative, Terminal Manager, Sales Manager, Transportation Co-Owner and Recruitment Manager.
"My goal is to continue to grow Trailer Wizards' presence in Eastern Ontario so that we can attract new customers and increase our service level to existing customers," Holt stated. "I have been in and around different forms of equipment such as trailers since I was a kid. I am proud to bring my years of experience to an organization that can deliver trusted local service nationwide."
Holt was born and raised in Ontario and holds a degree from Humber College in Architectural Design Technology. Holt can be reached at the Mississauga branch at 1880 Britannia Road East, Mississauga, ON, or 905.740.3956.
Trailer Wizards Ltd. formed in 2010 as a result of the merger between Lions Gate Trailers Ltd., Provincial Trailer Rentals, and other select providers that form a strategic network. Trailer Wizards Ltd. locations include Vancouver, Calgary, Edmonton, Saskatoon, Regina, Winnipeg, Mississauga, Montréal and Moncton.