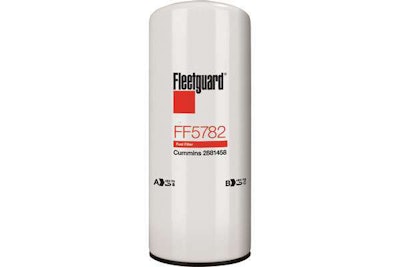 Cummins Filtration has announced its new NanoNet line of fuel filtration products that utilize nanotechnology in the filtration media.
According to the company, the new media provide an exceptional level of efficiency and harmful particulate removal, and mark the first time that a nanotechnology-based filtration media has been commercially developed for fuel filtration products within the industry.
Joseph Saoud, president – Cummins Filtration said the new development provides the best technology for maximum filtration efficiency with minimal flow restriction.
"In turn this creates greater up-time by extending service intervals and optimizing filter life," he says. "This latest in Fleetguard's proprietary advanced filter media family is developed to deliver unmatched protection and superior up-time for customers while lowering total cost of ownership."
NanoNet fuel filtration products exhibit between 7 and 13 times greater retention of harmful particles within the fuel filtration media during engine vibration and fuel surge than competitors, Cummins says. Fuel surge results in a fluctuation of fuel flow within the system whenever the engine's output is increased or decreased, the company says.
The nanotechnology-based NanoNet filtration media is available on the following Cummins Filtration FleetGuard products: FF5810; FF5811; FF5812; FF5813; FF5814; FF5815; FF5816; FF6817; FF5819; FF5823; FF53093; FS53001 and FS53002.