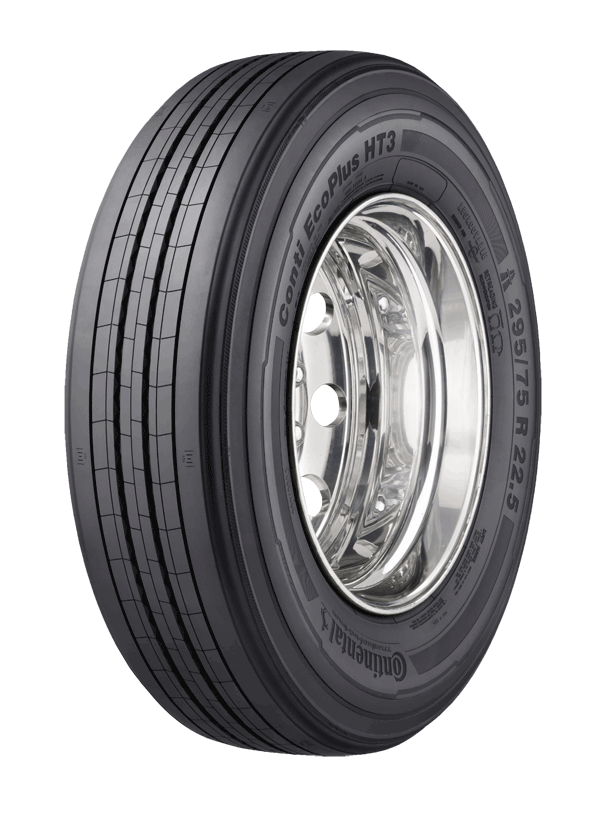 Continental Tire the Americas, LLC says it is poised to launch this month a completely new truck tire generation for the long haul goods sector – the Conti EcoPlus HT3.
Continental says the new premium tire for the trailing axle has been developed for maximum cost effectiveness, incorporating greater fuel efficiency, long service life and retreadability.
The Conti EcoPlus HT3 is the latest truck tire of a completely new family which Continental will continue to launch in 2014. This addition to the Generation 3 tire range for goods transport has been developed with a clear focus on maximum efficiency on the trailer axle, in order to help fleets optimize their driving costs and successfully navigate today's competitive market. "With trailer tires contributing more than 40 percent of the overall rolling resistance for a North American tractor and trailer combination, having the optimal tire on the trailer plays a crucial role in the efficiency of the whole vehicle. Conti EcoPlus HT3 will be our most fuel saving trailer tire yet," said Alex Chmiel, Continental's director of marketing for commercial vehicle tires – the Americas.
For the Conti EcoPlus HT3, Continental engineers developed an all new, fuel efficient tread design, with four longitudinal grooves and a reduced void area. The pyramid-shaped triangular bars in the base of these tread grooves stabilize the new Conti EcoPlus HT3 against flexing in the tread, while its closed ribs and continuous shoulder provide optimal straight line tracking. These design features add stability and prevent distortion, which is especially demanding for maneuvering tasks typical for trailers, while giving a wider contact surface area for better rolling resistance.
The Conti EcoPlus HT3's tread compound is also optimized for rolling resistance in a two-layer construction. The cap compound of the tread ensures optimal contact with the road surface for long service life, while the special compound of the tread base on the four-layer triangular belt casing reduces the heat generation in the crown for maximum reduction in rolling resistance. Finally, Continental engineers added the all new Fuel Saving Edge. The Fuel Saving Edge relocates the rubber away from belt edges, where it's most susceptible to hysteresis and heat buildup, and moves it to the center ribs where it's needed for longer mileage. The result is a specially shaped contour that provides less rolling resistance, greater fuel efficiency and longer life. However, the tread cap is still as wide as Continental's previous long haul trailer tire, the HTL Eco Plus, for optimal handling.
"Between the tread design, compounding and reduced heat buildup, the rolling resistance of the Conti EcoPlus HT3 was reduced by up to 13 percent compared to its predecessor, which makes the tire our most fuel efficient trailer tire offering to date. This tire is performing at well below the proposed 2015 SmartWay program rolling resistance limits and will be a market champion at this axle position. In addition, these Continental advances mean a mileage increase of up to 15 percent – making a major improvement in efficiency without sacrificing wear," Chmiel explained.
Like all tires in the new Continental Generation 3 truck tire range, Conti EcoPlus HT3 has the latest Continental premium casing with steel cord chafer enhanced beads, greater air volume and better pressure distribution to prevent life-robbing heat buildup in the tread area. While these features protect the casing for retreadability, the Conti EcoPlus HT3 casing also comes in a standard width that can be retreaded across all axles. Allowing fleets more flexibility and value with their casing management,  the new trailer tire casing is now 15 mm wider than Continental's previous HTL Eco Plus trailer tire and accepts caps up to 245 mm.
"The combination of all these factors — fuel savings, mileage and retreadability — ultimately gives the Conti EcoPlus HT3 the greatest potential for cost savings over the tire's full lifetime," said Chmiel. "It's going to be an absolute game changer for our fuel and cost conscious customers."
Conti EcoPlus HT3 is now available in the North American markets in sizes 11R22.5, 11R24.5, 285/75R24.5 and 295/75R22.5, load range G and in 255/75R22.5 load range H. Additional sizes and a matching ContiTread retread product are set to be introduced in the coming months.