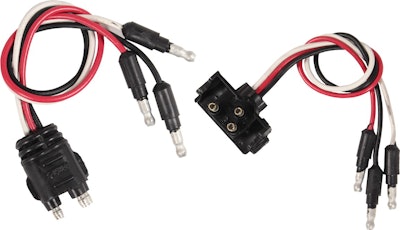 Phillips Industries has introduced to the aftermarket three new trailer harness pigtail products, which the company says are all sealed for additional protection to keep out moisture and contaminants.
New trailer lighting pigtails are now available for stop-tail-turn and mid-turn lights, as well as marker/clearance lights.  The Stop-Tail-Turn and Mid-Turn Light Pigtails have three bullet connectors on one end and either the standard PL-3 connector or 90° PL-3 connector on the other end.  The Marker/Clearance Light Pigtails have two bullet connections on one end and either a 2-pin AMP connector with sealed boot, PL-10 connector or flat seal connector on the other end. All connections on Phillips' pigtails are molded to protect against contaminants, the company says.
The new Phillips Pigtail Adapter converts a PL-3 connector, typically used for incandescent trailer lighting, to a 3-Pin AMP connector for LED lighting. Phillips says it includes a STA-DRY sealed boot for additional protection against moisture and contaminants.