New Valspar 2nd Skin Peel-Off Coating provides a tough, rubberized finish for a wide variety of automotive surfaces. This synthetic rubber coating is easily applied, will last until it is peeled off and will not damage the original paint on a vehicle.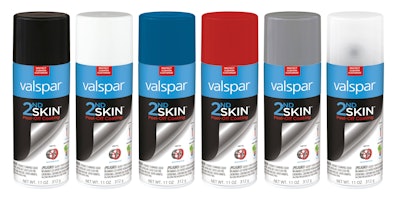 Shelley Potaniec, product manager, aerosols for Valspar, says the premium aerosol allows users to protect, cushion or customize the appearance of any painted surface, as well as wheels, chrome trim, metal and plastic. The surface quickly dries to a matte finish that remains flexible and stretchy over time.
"It can be peeled off and leaves no residue or film," Potaniec says.
Quick drying, new Valspar 2nd Skin Peel-Off Coating provides an extra layer of protection from moisture, acids, abrasion, weathering, corrosion and high temperatures up to 200 degrees. Valspar says it will not crack or become brittle in extreme weather conditions and is available in six colors (red, black, blue, white, smoke and clear), Valspar 2nd Skin Peel-Off Coating can be used on vehicles, in shops and on many automotive-related surfaces such as:
Metal – Reduces vibration, deadens sound, insulates electrically.
Wood – Seals and protects from weathering and splinters.
Glass – Shatter proofs glass objects and the clear formula provides a frosted appearance to windows and crafts.
Plastic – Protects delicate surfaces from scratches.