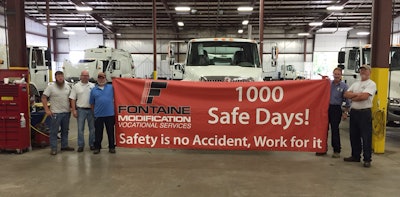 Fontaine Modification Vocational Services' modification center in Springfield, Ohio, celebrated a huge safety milestone last month when its employees worked their 1,000 consecutive day without a lost-time accident on Aug. 27.
The streak, which started when the Springfield facility reopened in 2012, is the third safety milestone within Fontaine's network of modification centers in the past year, the company says.
"Workplace safety is a company-wide initiative at Fontaine," says Todd Sheets, Springfield operations manager. "The management team holds regular safety update calls, and all employees attend a daily safety meeting. Any time there is a close call on the facility floor, we document it and discuss how to prevent occurrences in the future. That way, everyone learns from each other how to best prevent an incident."
Fontaine's Springfield modification center primarily provides dual-drive steering modifications for refuse and street sweeper trucks built at Navistar's Springfield assembly plant. The modification center features four drive-through bays and space to service up to 15 vehicles simultaneously. Sheets has overseen production at Springfield since 2013 and has been with Fontaine for more than 20 years, the company says.
The other Fontaine Modification facilities that recently celebrated safety streak milestones are Charlotte, North Carolina, and Williamstown, West Virginia. Employees at the Charlotte and Williamstown modification centers were recognized for reaching 2,000 consecutive safe days, Fontaine says.