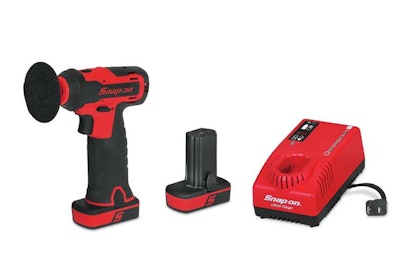 Snap-on introduces the new CTPP761 14.4-volt MicroLithium cordless polish/prep tool for vehicle repair, detailing and body shops.
Compact and lightweight, Snap-on says the CTPP761 includes polishing and sanding pads for various jobs.
"This innovative product provides the benefit of using one durable tool for two functions," says Rodger Isetts, product manager of power tools for Snap-on. "The CTPP761 is designed to meet the demands of a busy technician looking to save time, money and storage space. With just a single tool, customers can sand brake rotors or restore headlights."
Snap-on says the CTPP761 can be used on metal, solid surfaces, fiberglass or wood. And equipped with two 2.0 Ah batteries, the CTPP761 has a two-speed gearbox that boasts 3,500/15,000 RPM, the company says.
"Technicians will be amazed at the dual capabilities and the rechargeable 14.4-volt battery, which charges in less than an hour. Compared to other tools of its kind, the CTPP761 is more powerful and practical. It gets the job done and comes with a one-year warranty," says Isetts.