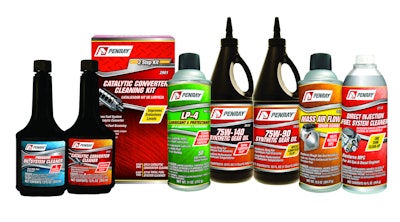 The Penray Companies has added six new products to its portfolio.
"In 2016, Penray will be celebrating it's 65th year of developing and marketing innovative chemicals and functional fluids for the automotive and heavy-duty markets," says Mark Kardon, director of marketing at Penray. "These new products are representative of our commitment to quality and enhancing the efficiency of repair technicians while providing outstanding value to motorists."
He adds, "Our new product commitment is on-going. We will continue to develop and improve our products, meeting the needs of the automotive and heavy-duty marketplace as technologies and customer needs change."
Penray says the new products include:
Direct Injection Fuel System Cleaner: Designed for both gasoline and diesel-powered cars and light-duty trucks, Penray says this product is specifically formulated for GDI systems, and ensures thorough valve and injector cleaning. It removes deposits and other contaminants from the entire fuel system, eliminating injector obstructions while restoring fuel efficiency, the company says.
Catalytic Converter Cleaning Kit: The product removes contaminants that coat catalytic converter honeycombs and pellets that can impede the efficiency of the converter, Penray says. This two-step cleaning kit, designed for professional use, restores catalytic converters to their original performance levels in reducing the level of unburned hydrocarbons emitted from the tailpipe, Penray says.
Mass Air Flow Sensor Cleaner: Designed to reduce rough idle and hesitation, improving performance, fuel economy, and emissions. Penray says this new product is perfectly safe for use around plastics and other delicate components that are increasingly common in late-model vehicles.
Two new Synthetic Gear Oils: Penray says these oils are designed for use in vehicles with limited-slip differentials. Offered in both 75W-90 and 75W-140 viscosities and including the limited-slip additive package, these new lubricants will prove of particular value to those who own or service vehicles requiring this type of gear oil, the company says.
Premium Oil System Cleaner: An easy-to-use non-kerosene based product removes gum, sludge, varnish and moisture from all oil-wetted components inside an engine, including valve train components as well as engine bearings, pistons and rings, Penray says. Designed to be used just prior to an oil and filter change, all that's needed is to add this cleaner to the engine oil, run the engine for five minutes, and then drain and renew the oil and replace the filter, the company adds.
LP-4 Lubricant & Protectant: Penray says this product is 50-state compliant and helps clean, lubricate, prevent and protect many different automotive components. It is said to be formulated to handle problems associated with the recurrence of rust, corrosion, and dust buildup that can threaten the life and performance of all types of automotive components.