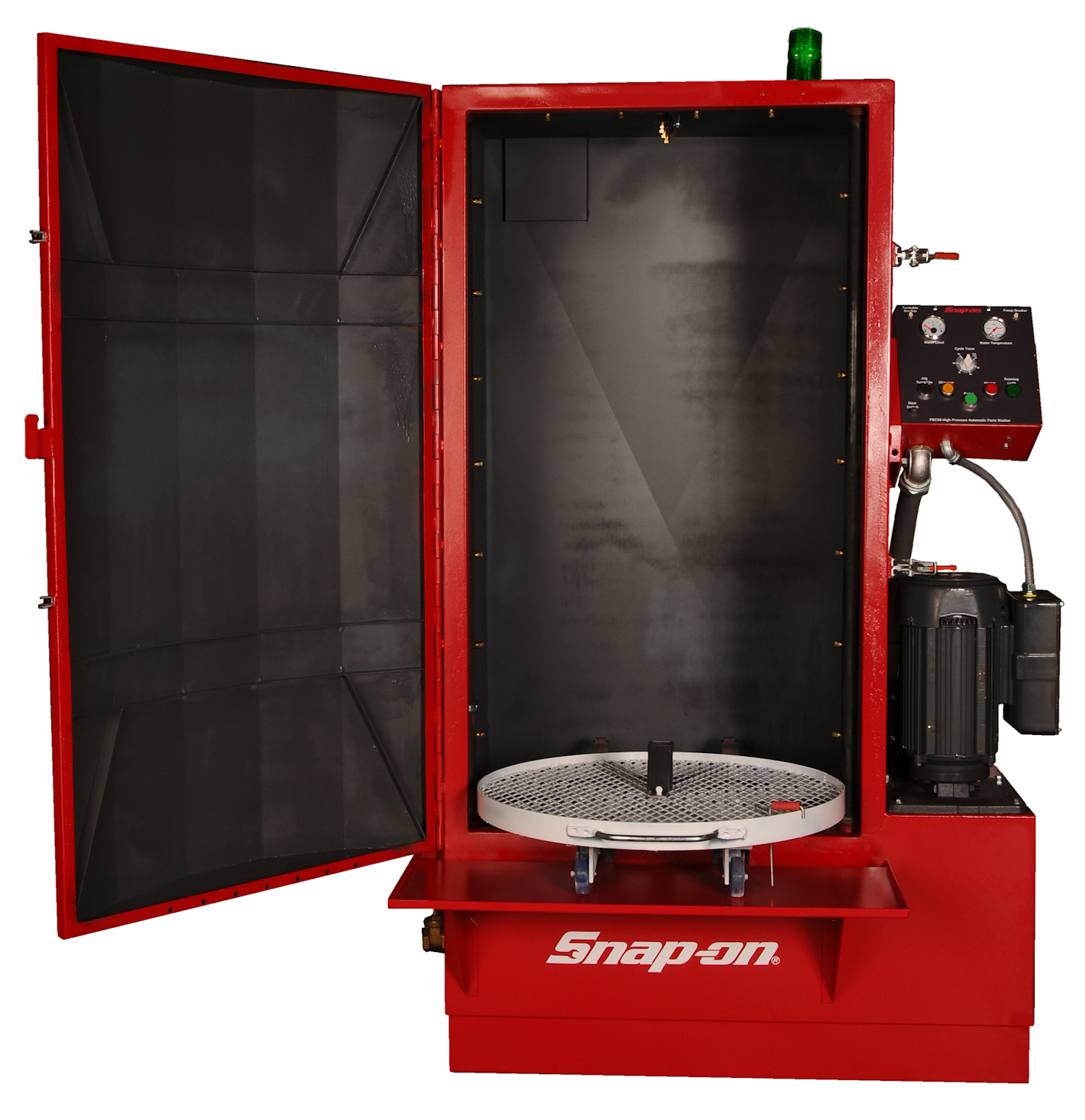 The new Snap-on PBC58 heavy-duty automatic parts washer can be used to clean many large automotive parts such as gas and diesel engine blocks, cylinder heads, valve covers, pans, transmission cases, as well as smaller items down to nuts and bolts, the company says.
"An effective parts washer is vital for shops that service newer, larger six-cylinder fuel-efficient diesel engines," says Michael DeKeuster, a Snap-on Tools product manager.
"The PBC58 powerfully dissolves the hard-to-reach dirt and grime that may be baked onto parts after continuous use and is essential for parts that cannot be thoroughly cleaned through a manual process. Technicians can use this heavy-duty parts washer to automate the cleaning process for several tools simultaneously, saving valuable work time," DeKeuster says.
The PBC58 automatically cleans parts using a biodegradable aqueous soap concentrate (YADW896B) that heats to 45 psi and sprays from 24 high-pressure nozzles at 42 gpm. Its turntable is driven by a #40 roller chain for rotation without slippage, and it pulls out 18 in. for easier part loading. The sprocket drive and turntable motor have dual-sealed bearing shafts for longevity and strength, the company says.
Snap-on adds that the washer can accommodate a load capacity up to 1,000 lb., and its cycle time can be adjusted up to 60 minutes. An oil skimmer and pump reservoir filter is included to remove oil and grease, and a double intake filtration system traps sludge with a perforated steel screen filter. Manufactured in the United States, the PBC58 is constructed from 12-gauge steel with solid welded seams.