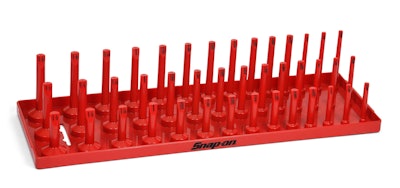 Snap-on introduced two new shop accessories Tuesday, its KA123 1/2 in. Drive 3-Row Post-Style Socket Tray and its CTLSH861 14.4 V MicroLithium 700 Lumen Shop Light.
Snap-on says the multi-sized rows of the KA123 Series enables technicians to easily store and organize shallow, semi-deep and deep sockets. Each post has a large printed socket size for quick identification. Snap-on says the trays are designed for 1/2 in. drive chrome or impact sockets; the fractional trays cover sizes 3/8 in. to 1-1/4 in. while the metric trays cover 10 mm to 27 mm socket sizes. Trays are available in four of the most popular Snap-on tool storage unit colors including black, red, electric orange and extreme green, the company says.
Additionally, Snap-on says the two-in-one light features a 700 lumen bar and a 200 lumen spot light that is guaranteed to illuminate the darkest jobs. The light bar has a four-hour run time at its highest brightness, with 14 hours at its lowest. Snap-on says technicians can utilize the spot light for an entire shift with its extended run time. The visibility for every job can be controlled with the variable brightness switch and angled into five locked positions, while the individual switches provide convenient user interaction for each light. A low battery warning signals when the light has 10 minutes of power remaining. The unit charges with the Snap-on CTB8172BK or CTB8174 battery pack, which is sold separately. The CTLSH861 is IP64 resistant to water and dust infiltration, the company says.