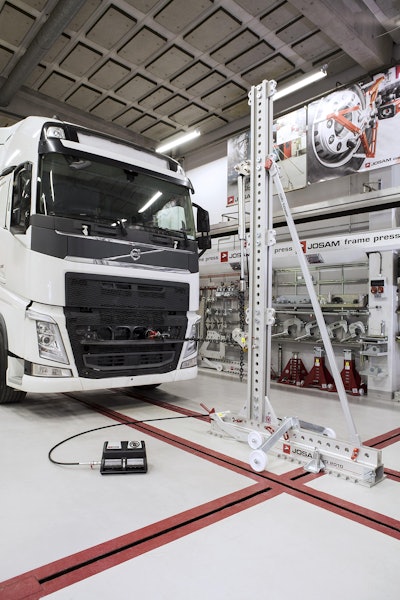 The new Josam Cab Tower is a shop solution for repair jobs to the cab, coach and other high-reach body repair areas on heavy-duty vehicles.
"Reaching the top of heavy-duty vehicles to make repairs can be very challenging; however, with the new Josam Cab Tower, this task has become much simpler," says David Zinkiewicz, Josam business development manager-collision. "The Josam cab tower can be utilized for a variety of high-reach repair jobs."
Josam says the cab tower's aluminum alloy construction is light weight and easy to move. It can perform multiple pulls or pushes, up to 13 ft. in height. The tower's I-beam anchoring fits in the same anchoring holders as the Josam frame press straightening system. With a twist the cab tower is fastened into the I-beam in the shop's floor, the company says.