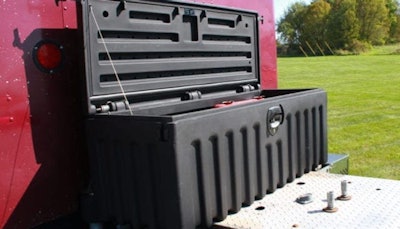 Answering the demand for a bigger toolbox, Minimizer has introduced a 50-in. toolbox.
"A 36-in. toolbox isn't necessarily big enough for certain applications, and we pride ourselves in meeting consumer demand," says Steve Hansen, Minimizer director of marketing.
"Frequently, we hear about drivers that need additional space for tools, and this new box presents the perfect solution," Hansen says. "For instance, many drivers carry a shovel, and this 50-inch toolbox can accommodate a full-size shovel."
Made from a proprietary material that the company says will never rust, corrode, crack or need paint, Minimizer toolboxes come with a lifetime warranty.
The 50-in. toolbox comes in six colors — black, red, white, silver, yellow and granite — and is available in two styles, chest and underbody, the company says.