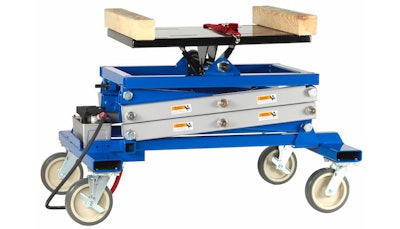 OTC introduces its 2,500 lb. Air/Hydraulic Powertrain Lift (1595A) to lift and handle heavy loads.
OTC says the 1595A powertrain lift can handle loads up to 2,500 lb. The scissor-designed powertrain lift features an air/hydraulic foot pump so users can accurately lift heavy items and the table of the lift is adaptable from independent adjusting screws, capable of tilting the table 15 degrees side-to-side or fore-and-aft, allowing full range of motion to remove or install heavy items.
Additionally, OTC says the lift's large, 8 in. swivel casters enable users to move the lift around a workplace with ease. The 2,500 lb. Air/Hydraulic Powertrain Lift meets ASME PASE standards, the company adds.