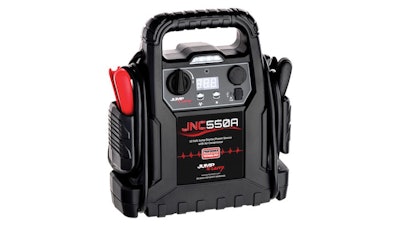 Clore Automotive introduces the new 12-volt Jump Starter with Air Compressor, Model No. JNC550A, from Jump-N-Carry.
Clore says this new portable power unit offers powerful jump starting capability in an ergonomic and convenient package. It comes equipped with an integrated air delivery system and delivers 1100 peak amps and 300 cranking amps of starting power.
Inside the JNC550A beats the heart of a Clore Proformer battery, the company says. Clore Proformer batteries are specifically designed to provide extreme starting power, extended cranking duration, numerous jumps per charge and a long service life. They also are a great power delivery system, Clore says, able to power 12-volt accessories via its DC power port, as well as small electronics via its USB port.
Plus, with automatic charging from a built-in charger, master ON/OFF switch, long 46 in. cables, a powerful work light and a rubberized base that won't scratch vehicle surfaces, Clore says the JNC550A is as convenient and multi-faceted as it is powerful. Its air deliver system features high CFMs to fill most tires quickly and easily, an integrated gauge for confident top offs and a 24 in. long air hose with simple chuck for easy tire connections.