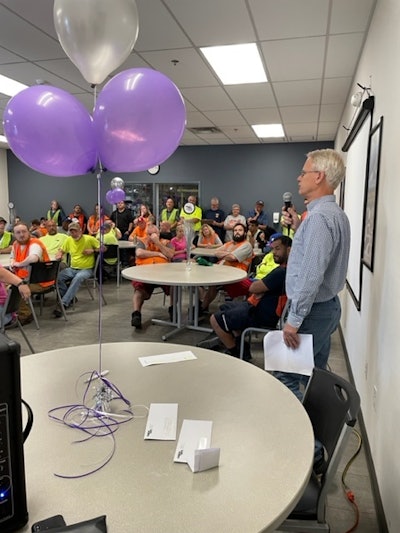 Dayton Parts, a wholly owned subsidiary of Dorman Products, is celebrating 100 years of delivering innovative aftermarket solutions for commercial fleets and owner-operators in 2022.
The company will commemorate the occasion this month with a heritage celebration for employees, retirees, and business partners, as well as with numerous customer-focused events throughout the remainder of the year.
The 100th anniversary is an extraordinary milestone for a company that began in 1922 as an automotive spring manufacturer. Known then as Harrisburg Stanley Spring Works, the company set itself apart with its quality products that supported some of the earliest vehicles developed in the United States. Today, Dayton Parts is one of the largest manufacturers of leaf springs in the country and a leading full-line commercial vehicle aftermarket supplier. The company's products are offered through more than 1,800 authorized partners with 2,300 unique distribution points.
"Dayton Parts may be 100 years old, but our business is stronger than ever thanks to our employees, business partners and customers alike," says Paul Anderson, president, HD. "Our centennial will be marked by honoring our roots, celebrating those that have empowered our success, and looking forward as we begin another 100 years serving our customers and the communities in which we operate.
Throughout its history, Dayton Parts has steadily expanded its footprint while growing its offering to better accommodate replacement needs and help increase productivity for end users. Today, the storied brand touts an inventory fortified by more than 30,000 SKUs from original production parts to multi-tiered aftermarket-quality options. Customers rely on Dayton Parts for its highly diversified portfolio, expansive availability, and on-time delivery to best suit their vehicle and replacement journey, the company says.
In 2021, continuing its strategic growth, the company joined forces with Dorman to further accelerate innovation in the industry and drive additional value for its customers. With the addition of Dorman's HD products, the combined company now offers a best-in-class heavy-duty portfolio with strengthened fleet and distributor relationships across the United States and Canada.
"We're proud of our history - it's made us who we are today," says Anderson. "We're equally inspired by what the future holds as we continue to innovate replacement solutions to increase fleet uptime and efficiency, and more importantly cultivate customer relationships that support joint prosperity."