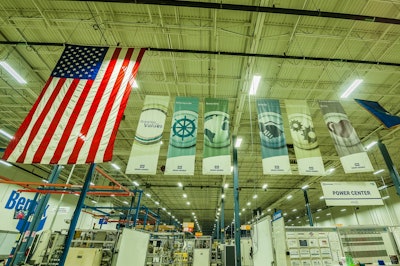 Bendix Commercial Vehicle Systems is celebrating 15 years at its state-of-the-art production plant in Bowling Green, Ky.
The Bowling Green plant opened in October 2007 to manufacture the full lineup of Bendix foundation brake products, including air disc brakes and foundation drum brakes, as well as automatic slack adjusters, spring brakes, and friction. At its opening, the facility occupied 187,000 sq.-ft., and employed 133 people working one shift. Since then, Bendix has invested tens of millions of dollars in production capacity and equipment.
The facility today occupies 432,000 sq.-ft., and employs more than 500 team members covering three shifts.
"Our roots run deep in Bowling Green," says Wade Watson, Bendix vice president, manufacturing, and former plant manager at Bowling Green. "It's our home. We have made major investments in our plant, our people, and our community. We are proud to be a part of Bowling Green, proud to be a part of a dynamic global company, and proud to reach this milestone anniversary – yet another step in our strong and sustainable future."
Most recently, the plant underwent a major update in the form of a 130,000 sq.-ft., expansion. Completed in 2020, Bendix says the addition will increase air disc brake (ADB) production capacity to keep pace with accelerating customer demand in North America. The company expanded on nearly 8.5 acres immediately adjacent to the facility's 302,000 sq.-ft., building, a leased space the company purchased as part of the investment.
Among other improvements in support of Bendix's ADB portfolio, the expansion added a new bracket weld machine center, a third ADB production line, four ADB caliper machining centers, and engineering test capability.
Bendix also incorporated an on-site medical clinic and wellness center. In addition, the company held space in reserve to address long-term growth opportunities. The facility enhanced the operational side of the business as well by adding six docks, three recycling compactors, 100 spaces in an enlarged parking lot, and a driveway for more efficient truck routing to and from the building, Bendix says.