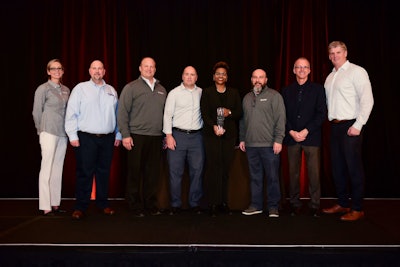 FleetPride Inc. named 2023 supplier award winners during the Supplier Summit at the Gaylord Texan Hotel and Resort in Grapevine, Texas.
"FleetPride values the strategic partnerships we have with suppliers. The annual awards ceremony allows us to honor those suppliers who demonstrated consistent and exceptional efforts to support FleetPride overall, whether it was field support, supply chain, digital or strategic initiatives," says Michael Keller, vice president of category management and strategic sourcing. "Congratulations to all of our award winners."
[RELATED: FleetPride website hits inventory milestone]
Ten suppliers were honored.
The Long Haul Award: MAT Holdings and Grote
MAT developed a technician certification program, added regional trainers to support FleetPride field employees and customers, and converted to a centralized kitting process of their product to help improve efficiencies.
Grote consistently supported FleetPride locations, training employees, setting and resetting planograms, and teaming up with the national accounts team to create brand awareness and promote solutions for customers.
The Over the Road Award: EKU
Through regular support meetings and reporting, EKU virtually eliminated lost sales of their products from FleetPride customers.
The Heavy Haul Award: Eaton and Continental Battery Systems
Eaton supported product line expansion within a compressed timeline, mitigating potential supply chain issues to ensure FleetPride maintained healthy in-stock positions.
Continental Battery Systems, a new FleetPride partner, worked through challenging market dynamics to deliver a complete parts and inventory solution ahead of schedule.
The Accelerator Award: Dayton Parts, Powered by Dorman
Dayton engineered a solution that got customers back on the road when the industry saw OE CPC4 modules failing and leaving operators in a truck-down situation.
The Severe Service Award: Phillips Industries
Phillips was recognized for their ongoing support of FleetPride national accounts, regional accounts and local customers.
The Off-Highway Award: NA Williams
Manufacturers representative NA Williams consistently brought new and innovative ideas to FleetPride on behalf of suppliers.
The First Click in Heavy Duty Award: Borg Warner
Borg Warner fully supported FleetPride's expanded digital marketing and e-commerce initiatives, helping both companies grow.
Supplier of the Year: BBB Industries
BBB boosted FleetPrides fast-growing turbos category with sales and marketing support, leading to significant growth and an industry-leading position for FleetPride in this category.