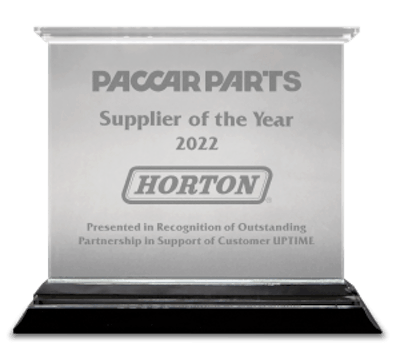 Paccar Parts announces Horton as its 2022 Supplier of the Year. Paccar Parts says this recognition goes to the supplier that demonstrated outstanding operational achievements, sales growth, parts availability, and program support last year.
Horton was recognized for excellent on-time shipping efficiency, consistent new part availability, reduced lead times, and strong sales efforts. This supplier also hosted a dozen large-scale sales and marketing events in countries where Paccar Parts has a presence.
"We are grateful for the longstanding partnership between Horton and Paccar Parts," said Laura Bloch, Paccar Parts general manager and Paccar vice president. "We appreciate their focus on parts availability and exceptional customer service."
Horton has been a trusted partner and supporter of Paccar Parts for decades. Horton's engine cooling solutions are a worldwide solution for nearly all makes and models of trucks, as well as many other motorized vehicles. A key factor that sets Horton apart from other companies and products is its long-lasting tenure and trust in the market, quality engineering and innovation, and most importantly, Horton's commitment to excellence for its customers.
"The team at Horton is more confident in our capabilities than ever," says Cordell Dietz, Horton CEO and president. "We hope our partnership with Paccar Parts continues its success for years to come."